There are a lot of things to consider before flying a drone. From the battery status to the privacy policy, everything must be correct. Every mistake in the documentation or the procedure can be a security risk. At worst, fines can be imposed.
To ensure that everything is correct, it is, therefore, advisable to create a checklist that can be integrated into the project process. This checklist should be complete and contain both general points and points specific to the individual flight.
The general points include, for example:
Comprehensive information obtained
approval obtained from the landowner
valid aviation liability insurance available
data protection declaration available
security measures taken
documents complete
flight and visibility weather conditions tested positive
emergency scenarios defined
accessibility guaranteed
patents examined
exception night flight caught up
exception BVLOS obtained
FPV requirements complied with
approval for exception or approval operator obtained
manual intervention is ensured
approval for exception exists
1:1 rule observed
permission obtained
marking applied
Valid proof of knowledge available
Flights that have to meet special requirements require more extensive measures. Special flights include:
BVLOS flights
night flights
FPV (first person view) flights
flights over places of action of the police or the Bundeswehr
"autonomous" flights
flights over places of accidents and disaster areas
and more
In our Map2Fly Pro under " Project Plan" you will find the Checklists. There we have created checklists for you, with which you will never forget anything important again.
Upgrade to Pro now and get more functions for your UAV flight planning.
Here you can learn more: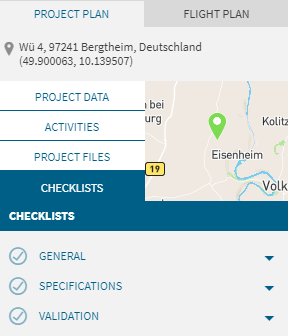 We wish many more successful flights,
Your FlyNex Team