Plan Accurately, Control Optimally, and Exchange Information
We understand the organizational feat it takes to manage hundreds of construction sites simultaneously, reducing risks right from the planning phase, all while maintaining efficiency. To simplify complexity and digitize construction sites, we developed the FlyNex Platform.
Minimize Risks, Digitize Processes
The era of manually documented processes and disconnected data sets is over: Through the digitization of manual processes, you not only boost your productivity but also establish a reliable data foundation. Share real-time information effortlessly with all stakeholders, preventing unnecessary delays and discrepancies.
Convincing Results
Standardized processes for shorter project phases and a digitized construction site. Smooth communication of information leads to increased efficiency. Benefit from time savings of up to 55% and reduce your costs by 50%.





Our solutions – as unique as your projects.
FlyNex adapts to your challenges.
A process for enhanced productivity: Capture image data with drones, conduct surveys, and perform calculations effortlessly in digital format. Share vital information with all stakeholders without losing anything in the process. Work independently or utilize FlyNex services.
With the FlyNex Platform, you receive an integrated software solution that maps the digitalization of your projects across the entire value chain. FlyNex solutions and services adapt to your specific requirements, allowing you more time for what matters most.

The foundation for all solutions & services: Our FlyNex Platform.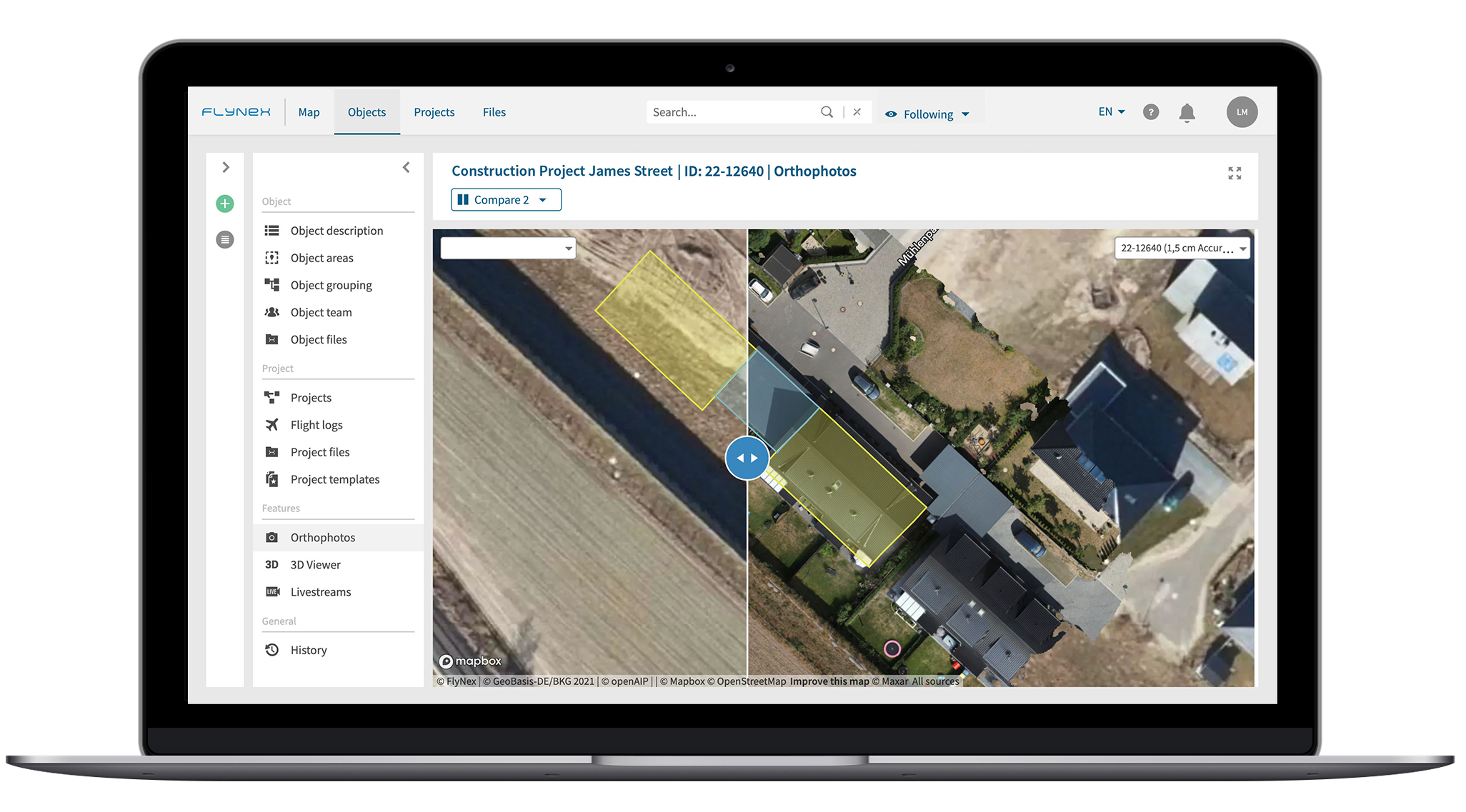 Among other things, what characterizes the FlyNex Platform:
Modularly structured and fully customizable

Collaborative cooperation, even with service providers

Comprehensive analysis options: point clouds, orthophotos, image annotations, etc.

Structured reporting for a complete documentation of your inspections

Flexible interfaces (API) to your existing systems (e.g. SAP, IBM Maximo, etc.)
Our client from the construction industry benefits from efficient and transparent processes by using the FlyNex Platform for drone operations:
The Challenge: Too many tools, lack of transparency
Our client faced the challenge of working with a variety of different systems for drone usage in surveying projects. Pre-planning, flying, documentation, and communication with clients and contractors required distinct tools, leading to a time-consuming and complex process. Despite having good hardware resources and already using drones for their projects, achieving a seamless and efficient workflow with the existing tools was not feasible.
The Solution: All-in-one software for a seamless process
Collaborating with FlyNex resulted in a comprehensive solution for our client's surveying processes. The FlyNex Platform seamlessly maps the entire process and facilitates a transparent flow of information. Rule checks, flight automation, analysis, data transmission interfaces, and documentation of the entire process can now be implemented with a single software. Additionally, all data can be seamlessly integrated into the BIM system to ensure holistic integration.
The Outcome: A transparent flow of information
The result is a seamless flow of information and significant time savings through process automation. Our client now has complete control over the entire surveying process and the associated data. Thanks to integrated role and permission management, responsibilities can be clearly assigned, facilitating teamwork. Requirement-based project planning allows for better fulfilment of specific customer demands. Transparency and efficiency have been significantly enhanced, enabling our client to further solidify its position as a leading company in the industry.
Construction documentation
Advantages
Digitally and centrally document construction progress
Make data accessible to internal and external users at all times
Identify deviations early
Bridge and building inspection
Advantages
Capture hard-to-see places easily with a drone
Detect damage faster & automatically with AI
No cherry pickers or scaffolding required
Advantages
No road closure necessary
Document states centrally and digitally
Locate damage immediately
Advantages
Carry out centimeter-precise measurements digitally
Map terrain easily
Create orthophotos and 3D point clouds for measurements, volume calculations, etc
FLYNEX FOR THE CONSTRUCTION INDUSTRY.
Are you ready for digitized construction?
Digital construction sites don't have to be a vision of the future. With FlyNex, you'll always stay one step ahead.
Secure your market position despite skill shortages and demographic changes.
Leading companies in the industry already rely on our solutions. Let's work together to discover how you can drive digital transformation in your company.