Automated Image Analysis of Large Amounts of Data
Manual analysis of thousands of images is time-consuming and error-prone. In particular, data collection with drones can result in numerous image data that need to be analyzed. Analyzing large amounts of data efficiently and detecting damage or objects is challenging and requires many resources. This is where artificial intelligence comes into play.
Individual AI Solutions for Optimized Processes
We offer you a solution for automated image analysis using artificial intelligence. The AI can be trained individually for specific damage, patterns or objects. Define for yourself how the AI can support you in image evaluation. Even with just a few trained images, the AI achieves impressive and accurate results. You will maintain full control over the data and can continue to train the AI on an ongoing basis.
Significant Increase in Efficiency
The use of AI enables a huge increase in the efficiency of your inspection processes. You save valuable working time and resources in image evaluation. Also, improve the accuracy of damage detection and reduce potential risks. Get your results even faster and more reliably to make early decisions.
Definition "Artificial Intelligence"
Artificial intelligence (AI) is a technology that enables computers to perform tasks that require human intelligence, such as pattern recognition, problem-solving, or decision-making.
AI uses neural networks that learn to recognize patterns based on sample data and make inferences based on those patterns. Like the human brain, new connections are formed with each training session, and AI becomes even more confident and reliable.
GET YOUR OWN AI FOR AUTOMATED IMAGE ANALYSIS.
Discover the possibilities of your own AI solution.
1. Data Acquisition
The AI needs images of sufficient quality and quantity. The damage, pattern or object (hereinafter also referred to as "problem"), which the AI should later recognize on its own, must be mapped on the images.
2. Annotation
Comparable to pretending, the AI must be made aware of the problem in the images. For this, the problem is marked on each image according to the requirements. Take over this step yourself or let FlyNex support you.
3. Training
After the problem has been marked in the sample data, the AI must train to recognize it. This is a technical process that runs in the background.
4. Implementation
After successful training, the neural network is integrated into the environment in which the AI will later be used. This can be our FlyNex Platform or your own IT environment.
5. Deployment
The AI is now ready to be deployed. New image data can be continuously analyzed for the pre-trained problem. Hundreds of images can be evaluated in a matter of minutes.
6. Validation
Since 100% accuracy is not always possible, practical use of AI requires human validation. The results of AI image analysis can be flexibly processed.
Detection of hot cells and shadows on solar panels
Detection of people and vehicles
Detection of bird nests and insulators on power poles
Data protection: Pixelation of faces and license plates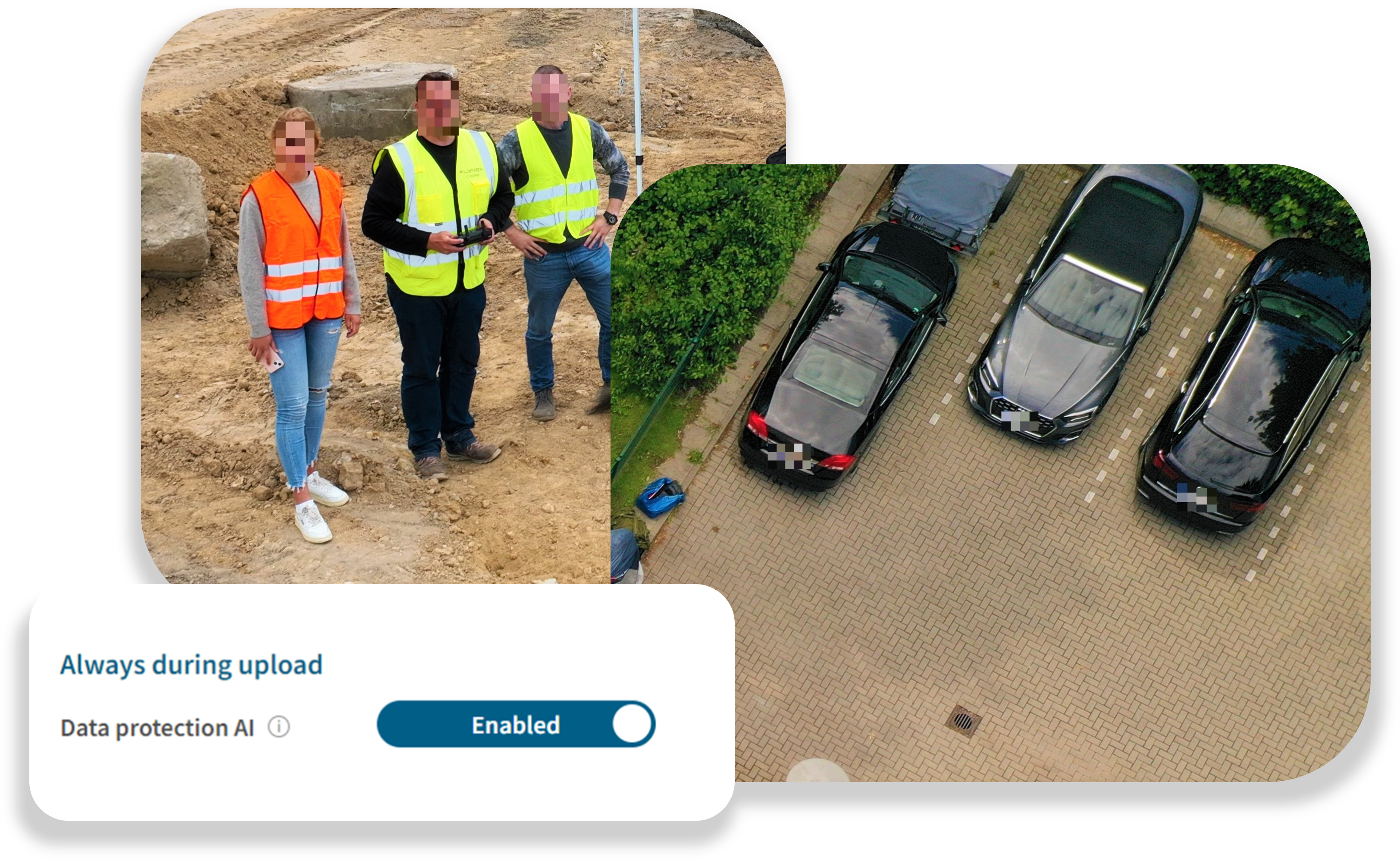 AUTOMATE YOUR IMAGE EVALUATION TOO.
Take advantage of significant time savings, just like our client from the facility management sector.
The Challenge: Evaluating thousands of drone images
The inspection of numerous telecommunications masts is time and resource intensive. Each damage must be documented in detail. Defects that could endanger traffic safety must be prioritized. For our customer, the rapid identification of HV connections and lock nuts, among other things, was therefore of interest. However, the evaluation of up to 1200 images, which are generated during the flight of a mast, is enormously time-consuming and cannot be carried out by a human being in a concentrated and complete manner on a continuous basis.
The Solution: Automated image evaluation with AI
An AI solution that can be trained specifically according to the internal damage catalog's own specifications convinced our customer. Sample images were first used to train neural networks that recognize HV connections and lock nuts. Based on this, the neural networks were further developed so that they can identify and classify different types of bolts. Finally, the AI was trained for the corresponding errors of the already known objects. As a result, the AI was able to recognize HV connections and lock nuts in images, assign the class, and determine if there was a defect.
Integrated into the FlyNex Platform, the AI solution provided our customer with a seamless and (partially) automated process from data acquisition with drones to evaluation with AI.
The Outcome: Faster results with less use of resources
Our customer benefits from significant time savings in image evaluation and a high increase in efficiency. The examiners quickly and easily receive a pre-selection of findings and only have to confirm or correct them with expert knowledge. In addition, for the first time our customer has the possibility to detect defects in places that are not visible at all when climbing the towers. The combination of the high-resolution and comprehensive drone images and the use of AI means that, for the first time, complete documentation can be carried out and informed decisions can be made.
Multiple applications of image AI.
With just 200 images, you can train your own AI within a week.
Our services
AI training software: The basis for using an AI is the training software of the company DENKweit, with which you can train your own neural networks individually, quickly and without prior knowledge.

Training of the AI: FlyNex takes over the training of the neural networks based on your requirements and with your data.

Pre-trained AI: For general use cases, we already have very well-trained networks that can be deployed immediately (e.g., recognizing people, faces, vehicles).

Implementation and application of the trained AI: For the AI to be used, we provide you with the AI within our FlyNex Platform or in your own IT infrastructure.
Whether hotspots on solar panels, rust on equipment, cracks in facades, faulty valve nuts, insulators, or birds' nests on utility poles, the use cases of AI for automated image analysis are endless.
YOUR BENEFITS OF A DEDICATED AI FOR IMAGE ANALYSIS.
Time savings
Your AI could analyze and evaluate 600 images in under 3 minutes. Benefit from significant time savings and increased efficiency.
Precise results
AI can recognize recurring patterns, leading to more precise evaluation. Human error is minimized, and objective evaluation is ensured.