Roofs, Facades and Green Areas
Managing and maintaining buildings and spaces is often time-consuming and costly. We understand that, and that's why we developed the FlyNex platform. Fulfilling legal safety requirements, uncovering renovation needs, and reducing risks: all made more efficient than ever before, thanks to digitally captured and well-structured data.
Digitize Buildings, Inspect Remotely
The era of endless inspections, elaborate roof surveys, and manually documented damages is over. Through the digitization of manual processes, the condition of your assets can be efficiently captured and assessed. Get the most out of your investments and extend the lifespan of your properties.
Convincing Results
Full-scale digitization. Save up to 75% of time and 60% of costs when ensuring legal safety requirements.




One Software – Countless Possibilities.
Modular adapted to your individual needs.
With FlyNex, you can easily conduct facade and roof inspections as well as surveys digitally, without the need for expensive scaffolding or aerial lifts. The drone can gather data from hard-to-reach places, allowing personnel to stay safely on the ground.
This enables early detection of damages and energy renovation needs, thereby extending the lifecycle of your assets. When surveying roofs and green spaces, you save valuable time and money.
Every property is different. Every company has a unique need for information. That's precisely why FlyNex solutions and services adapt to your requirements. This results in a personalized process from planning and data collection to data analysis.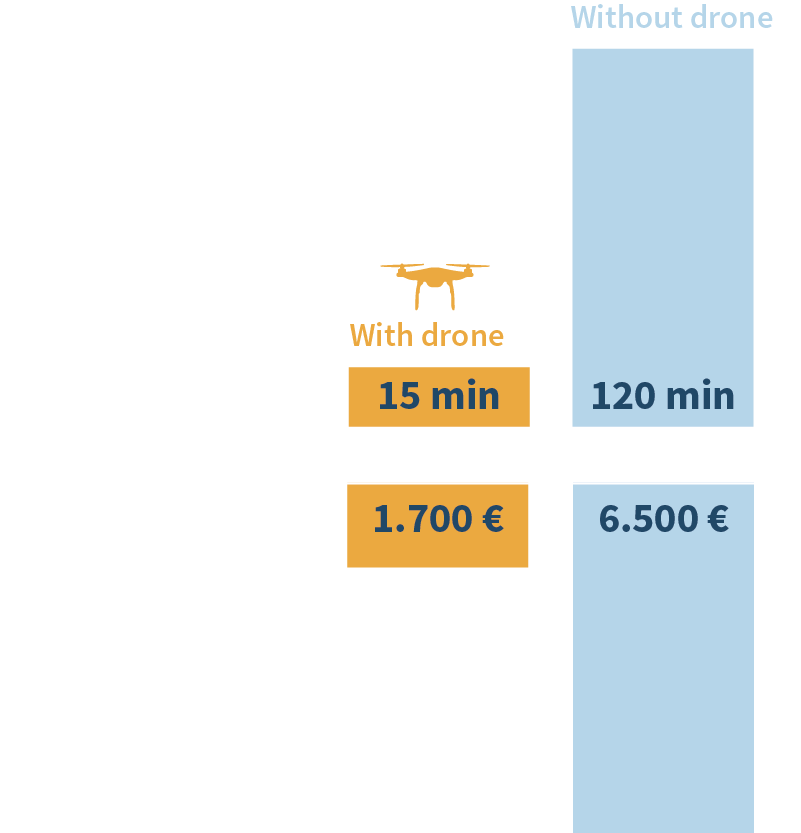 The foundation for all solutions & services: Our FlyNex Platform.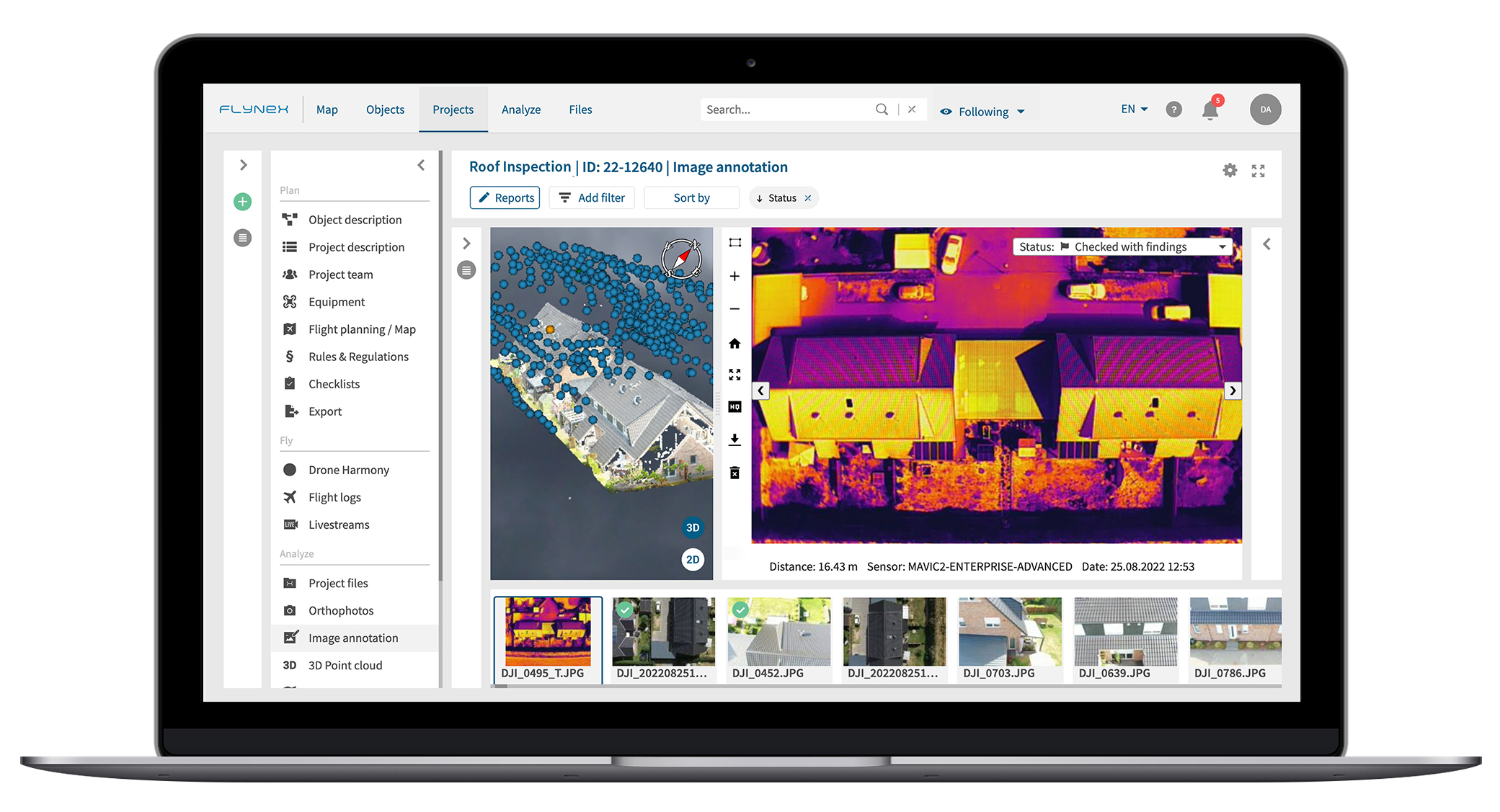 Among other things, what characterizes the FlyNex Platform:
Modularly structured and fully customizable

Collaborative cooperation, even with service providers

Comprehensive analysis options: point clouds, orthophotos, image annotations, etc.

Structured reporting for a complete documentation of your inspections

Flexible interfaces (API) to your existing systems (e.g. SAP, IBM Maximo, etc.)
Our customer from the real estate sector has FlyNex inspect over 6,000 roofs annually as part of their safety compliance obligations:
The Challenge: Lack of resources and inefficient processes
Our client faced the challenge of conducting roof inspections and safety compliance checks for an increasingly aging and extensive portfolio of buildings. Previous processes led to inconsistent results and consumed significant time and money. Additionally, there was often a lack of suitable resources and systems for data processing. A fundamental realignment was necessary.
The Solution: FlyNex takes over the entire process with an innovative approach
Instead of dealing with alternative solutions themselves and setting up efficient processes, FlyNex took on this task as part of its full-service. The automated data collection through drones brings significant time and cost savings, which is why our client was immediately convinced by our innovative approach.
In a very short time, state-of-the-art drones capture images with an impressive resolution of 20 megapixels and more. The entire process of capturing a roof takes only a few minutes. Through the use of advanced artificial intelligence (AI), all personally identifiable information in the images is automatically anonymized. Faces and license plates are reliably obscured to comply with data privacy regulations.
Subsequently, the visual inspection of the roofs is carried out by our experts using the FlyNex Platform.
The Outcome: Digital reports at a click
The results of the conducted inspections and the roofs verified by our experts are neatly prepared in a report and automatically transferred into our client's inventory system. The entire process yields significant time and cost savings, and most importantly, considerably enhanced building safety. Measures can be initiated much more swiftly. The uniformity of the data and the annual data collection also allow for well-founded assessments of the condition's progression. Additionally, our client now possesses a comprehensive and up-to-date digital overview of their assets.
Advantages
No more scaffolding or lifting platforms required
Inspect hard-to-reach places quickly and easily with a drone
Comply with public safety obligations at low cost
Advantages
Carry out centimeter-precise measurements digitally
Map terrain easily
Create orthophotos and 3D point clouds for measurements, volume calculations, etc
Advantages
Automated data generation of complex buildings by drone
Detect the smallest cracks, chips and growth with AI
No more scaffolding or lifting platforms required
FlyNex for The Real Estate Industry.
Live innovation.
Why make it complicated when it can be simple: With the FlyNex Platform, you effortlessly maintain an overview of your entire portfolio, can optimize operational costs with precision, and maximize your returns.
What's the status of your properties? Conduct recurring inspections on thousands of properties more efficiently than ever before and be informed anytime and anywhere.