As a platform provider for integrated drone management, the security of data, its transmission, and processing plays a central role. In the context of IT and data security, the following questions constantly arise for FlyNex:
Who should have access to which data?
Which regulatory requirements apply?
How can data security and data protection be ensured without losing added value?
In this article, we address these questions and look at the specifics that data collection by drones entails.
The Right Data at the Right Time
Especially with regard to (map-based) project management, it is important that information about objects or projects is easily retrievable and up-to-date. The quality of recorded data is composed of different aspects:
Is the right type of data being captured? It is necessary, for example, to have image material in a high resolution when inspecting structures. The image sensor technology (camera) is therefore an important element.
Is the data comparable? For example, by acquiring images of the same object from the same position consistently?
Is the data usable? This aspect is particularly important in post-processing. Simplified: If you want to evaluate an image, it is of no use if the data is only available in text format.
Once the quality of the data collection has been ensured, questions often arise regarding simple role and rights management. Not only must the right data be collected at the right time and be usable, but it must also be clearly defined who has access to which information and how this access is structured. This includes not only those with access rights but also third-party solutions, technical infrastructure, and data processors.
IT-Infrastructure: A Matter of Details
All FlyNex applications are based on FlyNex's own IT protection framework, which is strongly oriented towards the recommendations of the German Federal Office for Information Security (BSI). This is because in technical terms (see infrastructure schema), every instance that processes or stores data must be checked in the context of access and rights management. This relates both to generated data captured by means of drones and to information on projects, employees, planning, etc., which has been set by the user him/herself.
Based on these considerations, FlyNex runs its web applications in a Microsoft Azure environment. Based on these considerations, FlyNex runs its web applications in a Microsoft Azure environment. With "Azure Cloud Solution", Microsoft fulfills the conditions to ensure that the entire data value creation is secure and performant. The requirements of the FlyNex IT protection framework, the implementation of data protection, and the need for security result in the FlyNex Cloud Infrastructure, as shown here:
Microsoft Azure data centers are operated geographically separate from each other and meet ISO/IEC 27001:2013 and NIST SP 800-53 standards for security and reliability. Microsoft has created GDPR-compliant solutions for Azure with regard to data protection and data access in order to be able to provide the IT infrastructure within the framework of EU-wide and national data protection regulations. This ensures 100% compliance with the GDPR, while at the same time guaranteeing data provisioning and processing in accordance with EU requirements.
Encryption & Access Control
All communication of the FlyNex services takes place via the HTTPS protocol and is transmitted asymmetrically encrypted.
In the FlyNex infrastructure itself, all computing systems are only accessible via their own gateways. All data accesses in the FlyNex cloud are monitored to detect any conspicuous access attempts. A FlyNex-owned authentication service is operated for access management and access verification.
Access by FlyNex services and employees within the infrastructure in Germany takes place via Remote Desktop Protocol (RDP) with IP filtering and requires separate security clearances. For this, we use the appropriate authentication methods as recommended by security standards and provided by Azure.
In summary: All required security aspects are implemented by Azure and FlyNex has control over user data in accordance with German (BDSG) and European (GDPR) data protection guidelines, which are also guaranteed towards third parties by means of a data trustee. FlyNex has set up the Azure environment in accordance with the IT-Grundschutz guidelines and operates it accordingly to achieve maximum security and ensure data protection.
Access Management and Rights Management Within the Applications
At the user level, various access rights can be assigned and managed. In Map2Fly Pro and FlyNex Enterprise Suite, a sophisticated role and rights management system has been implemented for this purpose. This makes it possible to define which user in a project has access to which stored data and information and, if necessary, can also edit them. Simplified, there are two levels: the authorization level and the project level.
Administrators and users can be found on the authorization level. The role "User" is the default role for newly created users.
Note: The authorization role "User" is independent of the actual user license.
The rights of the project participants can be managed within the project level.
What Roles Can Be Assigned?
From the Pilot to the Cloud: Protecting Data Transmission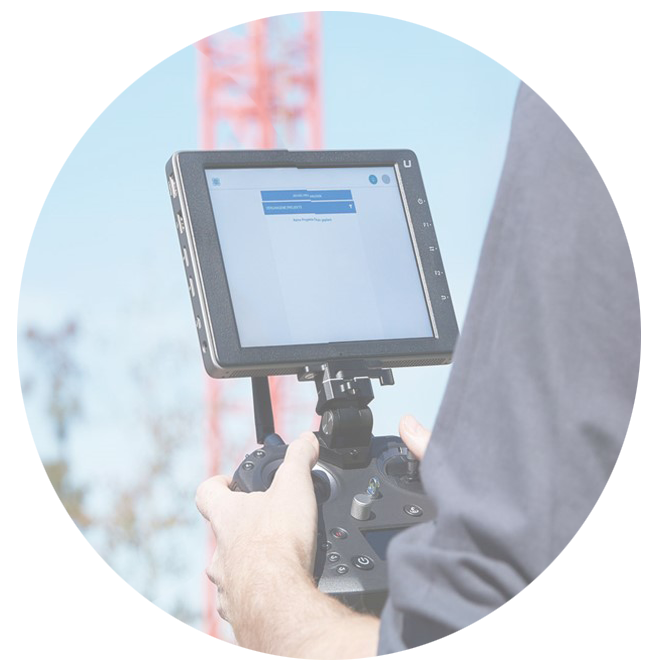 In addition to our well-known applications Map2Fly and the FlyNex Corporate Platform, we have developed the Connect App as a supplement. The Connect App is the interface between the aircraft and our planning software.
Since it is an Android app, it can be installed on supported Android-based controllers or mobile devices. The app connects to the device in use and forms a relay station between drone data and other endpoints. The generated data is transmitted from the device with the Connect App, over an encrypted mobile connection (HTTPS) to the FlyNex Corporate Platform. For this purpose, FlyNex operates corresponding API's, i.e. interfaces between controllers and platform infrastructure, to authenticate and decrypt incoming data connections.

Michael Petrosjan
CFO & Co-Founder, FlyNex GmbH

RULES AND GUIDELINES – HOW DO YOU USE DRONES IN A LEGALLY SECURE WAY WITHOUT RESTRICTING YOURSELF?

What at first glance appears to be mutually exclusive can in fact be combined quite well on closer inspection. Regulatory frameworks for drone applications and operational requirements for companies and their projects are decisive factors in the planning phase. Our focus here is to transfer efficient planning for complex data collection into automated processes.

Do you have questions about our solution or specific use cases? Feel free to contact us by mail or phone.