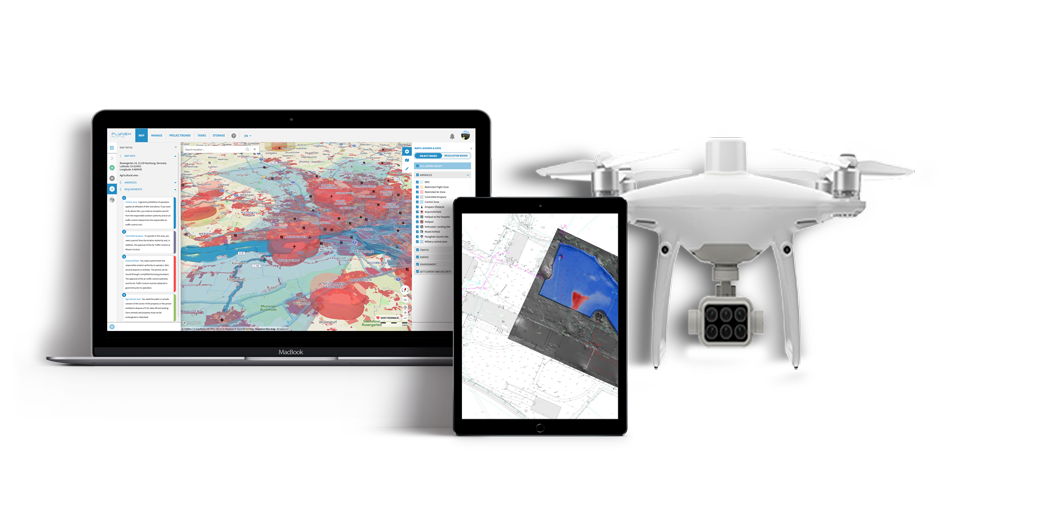 Pricing
The Flynex Enterprise Suite Is the Leading Solution for Companies That Want to Use Drone Applications in a Scalable Way.
FlyNex Corporate Platform incl. Enterprise License
Cloud-Space Within Own Company Domain
Unlimited Accounts for Team-Members Incl. Individual Logins
Unlimited Number of Partners With Role and Rights Management
Unlimited Number of Projects
Unlimited Number of Assets and Equipment inlcuded
Unlimited File Storage
All Map-, Plannning-, and Project Management Features
Data Connection for Drones
1 Drone Connector for a Specific Drone Device
Unlimited Flight Records
Unlimited Number of Automated Flight Patterns
Unlimited File Exchange
Unlimited Flight Logs
Drone / UAS
DJI Phantom 4 RTK with Sensor / Actor as specified
5 Batteries included
Technical Service & Support
Preconfigured and Ready to Deploy
Connection of Analysis Software
1 Analytics Tool Connection
Including Software-Tool for 3D-Modeling oder Orthophotography
AI-driven Analytics Tool for automatized Data Evaluation
500 GB / Month Data Volume between Platform and Software
Additional Drones
Connect additional drones or even own devices on request with your FlyNex Enterprise Suite
Further Tools
Connect through open interfaces additional tools, e.g. for analyzing retrieved data
3rd-Party-Integration
Connect an additional 3rd-party-solution through our open interface on request
More Data Volume
Extend your volume for data transmission for analysis with 500 GB packages
Connect and Build Your Individual Data Process With the Appropriate Connectors in Our Constantly Growing, Open Enterprise Environment.
FlyNex Connect App for Devices
DJI Phantom

DJI Matrice

DJI Mavic

DJI Inspire

DJI Spark

Lightbridge

Smart Controller

CrystalSky

Individual Device
FlyNex Connect App for Analysis & Software
| | | | | |
| --- | --- | --- | --- | --- |
| 3D Modeling | Orthophotos | Individual Tool | | |
FlyNex Connect App for individual 3rd-Party-Tools
| | | | | |
| --- | --- | --- | --- | --- |
| Cloud Storage | Individuelle Lösung | | | |