Already at the end of August, the weather low "Nick" plagues us with autumnal weather like rain, storm, and cold. Normally, we would now have between 20 and 30 degrees and sun: Perfect weather to fly a few rounds with the drone and take photos and videos from the air.
Since the weather does not play along and not everyone wants to put up with it, the question arises accordingly: Can I start my drone even in bad weather? Why should I be careful, especially at low temperatures? We explain and give tips.
Crucial Weather Factors for Your Drone Flight
If you want to take off with your drone, you will quickly notice the decisive role played by the weather. Decisive factors are rain, wind strength, outside temperature, and fog.
Flying a drone in the rain
A drone flight should not take place in the rain. On the one hand, most drones are not waterproof, and on the other hand, it isn't easy to take photos or videos. In principle, it is possible to fly in the rain, but it is essential to check whether the drone and sensors (e.g., camera) are waterproof. Please do not fly in heavy rain. Water in the electronics can quickly cause short circuits, the drone crashes, and in the worst case, the motor is destroyed.
Flying a drone in wind
With strong wind it looks already different. Here it is essential to observe the wind speed. From a certain wind force can and should not be flown. The risk of crashing the drone is too high.
Usually, information on the highest wind force that the drone can fly can be found on the website or in the manufacturer's manual. For the DJI Mavic 2, for example, a maximum wind speed or wind resistance of 29-38 km/h is specified.
Otherwise, the following rule of thumb applies as an approximation:
Maximum wind speed = Maximum speed of the drone / 2
You should note that wind force significantly influences flight behavior (including speed) and battery performance.
I always try to fly below 36 km/h wind speed. The devices can handle more for a short time, but that's not good as a permanent load.
Flying a drone in the cold
The outside temperature can also have a noticeable impact on battery performance. Many drones currently use lithium polymer (LiPo) batteries, whose optimal operating temperature is around 40 °C. This means that cold ambient temperatures will significantly reduce battery performance. A sudden voltage drop can also occur. Warming up the battery (e.g., storing it in a warm place) or "warm flying" the drone can counteract this if necessary. From an ambient temperature of below 10 °C, you should do this in any case, otherwise, the power drop of the battery is too strong.
So if you want to fly in low temperatures, you should take into account that the expected flight duration will be shortened (e.g. from 30 min to only 20 min per battery charge) and, if necessary, that sufficient spare batteries are available. Basically, we recommend, depending on the flight plan, to always take at least 2-5 spare batteries with you.
Please note that cold temperatures can also permanently damage the batteries and render them inoperable. In the worst case, this will cause the drone to crash during flight.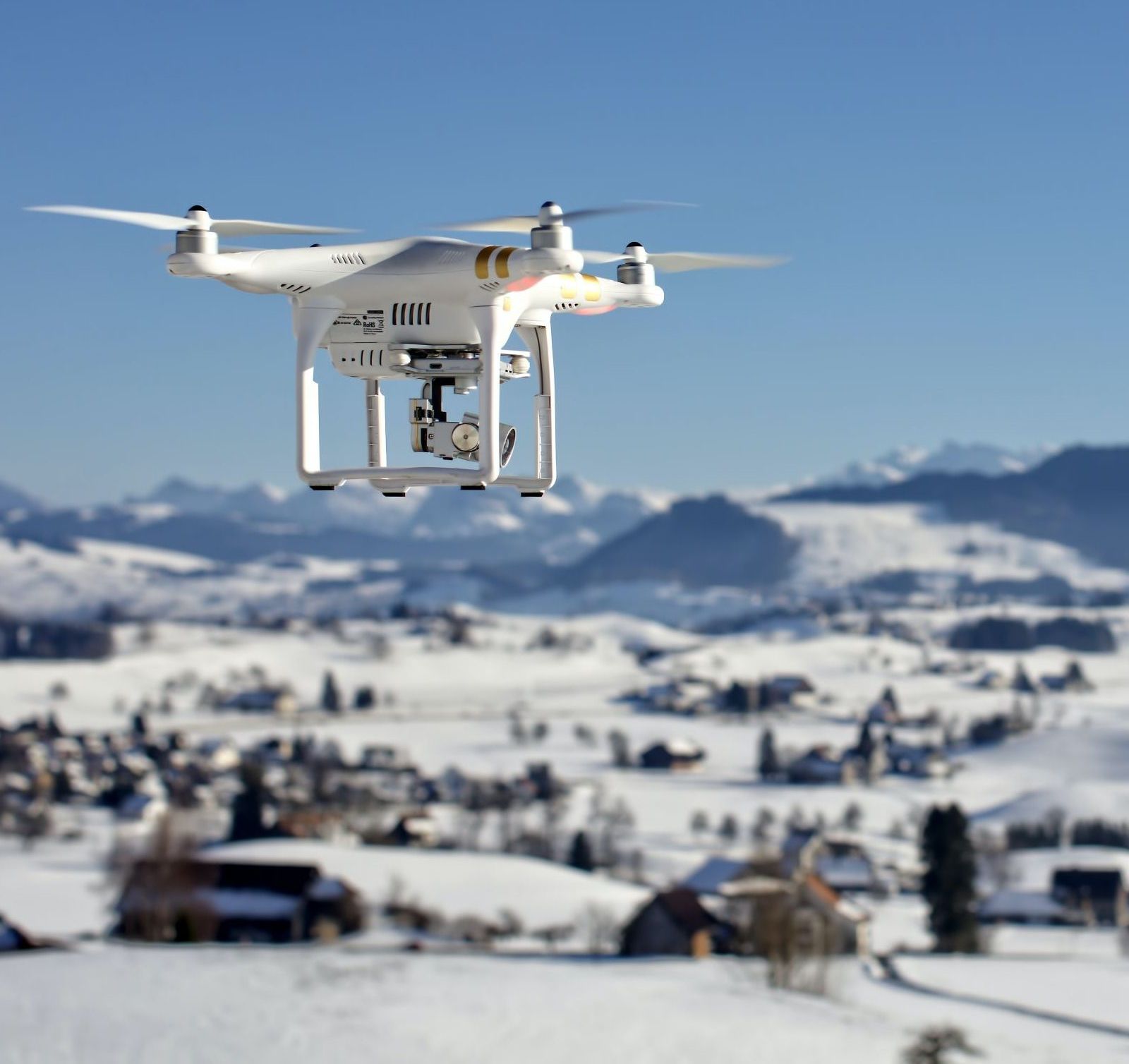 Flying a drone in fog
In foggy conditions, you should fly with appropriate caution. It is important to keep the drone within the field of view, as flights outside the field of view (BVLOS) are only allowed with permission. In addition, the fog can become denser unexpectedly and very quickly. You should also be careful in wet fog. Here, condensation can settle on the drone and cause damage to drones that are not waterproof.
So before a flight, every drone pilot should definitely inform himself about the weather conditions. In our Map2Fly, everyone can check the most important weather factors for the selected location.
For now, we hope for a sunny late summer and wish you all safe flights,
Your FlyNex Team