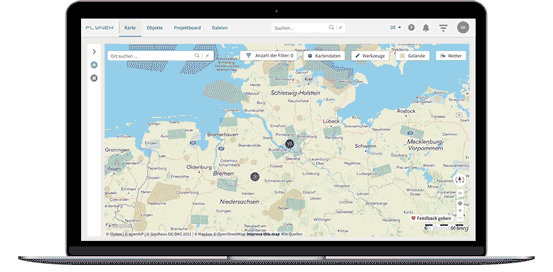 DIGITIZATION OF INSPECTIONS
BY DRONES IN THE ENERGY SECTOR
Inspecting wind turbines, power lines or district heating networks, detecting gas leaks, minimizing risks for personnel, and much more: Drones perform a wide variety of tasks in the energy industry and for network operators.
Faster, More Efficient, Safer – Drones as a Solution for Energy Suppliers
Energy supply and electricity, gas, and district heating network operators increasingly deploy drones for automated inspection and testing. The time and effort required to inspect over 2 million kilometers of power lines in Germany is a technical challenge. Drones are clearly at the forefront of remote maintenance. Be it for routine inspections, recording system numbers, detecting damage on masts, lines, or insulators, or identifying leaks by thermal photography.
Pole & Power Line Inspection for Damages and Malfunctions

Inspection Flights for Gas Pipelines

Inspection of Wind Turbines

Automated Routine Flights

Terrain Scans for Utility Network Expansion
Use Case MITNETZ STROM:
Inspection of Power Poles in Saxony
FlyNex enabled the first drone project of its kind with Mitteldeutsche Netzgesellschaft Strom mbH (MITNETZ STROM). South of Leipzig, we made a drone fly automatically, without active pilot and without direct visual contact (BVLOS, Beyond Visual Line of Sight). For inspection purposes of power lines and masts, a distance of about 20 kilometres was flown. The aircraft inspected a total of 70 power poles with a camera to record cable damage, bird's nests and the system numbers of the power poles. For this purpose, an artificial intelligence was used, which independently evaluated the images.