Technologies and innovations are destined for 2021! The market for unmanned aerial vehicles will gain considerable momentum this year.
On the one hand, drone manufacturers, service providers, and pilots will have to adjust to the new EU regulations, and on the other hand, the (economic) interest in drones is booming.
We expect 2021 to be not only another record year for hobby drones but also a record year for commercial drone projects! An analysis of our 2020 data confirms: The number of commercial drone flights is on the rise. Compared to the same period last year, the more technologically sophisticated applications, in particular, have gained in importance. For example, more than a quarter (27.4%) of all commercial drone applications were used for 3D surveying and modeling purposes. Drone data documentation and analysis tasks have also gained. As a result, the 2019 front-runner, performing inspections using drones, has slipped down to No. 3.
To conclude: It is precisely the use cases that play an important role in digitization and place higher demands on both process and software technology that have increased. The graphic illustrates the five most frequent applications and fields of use.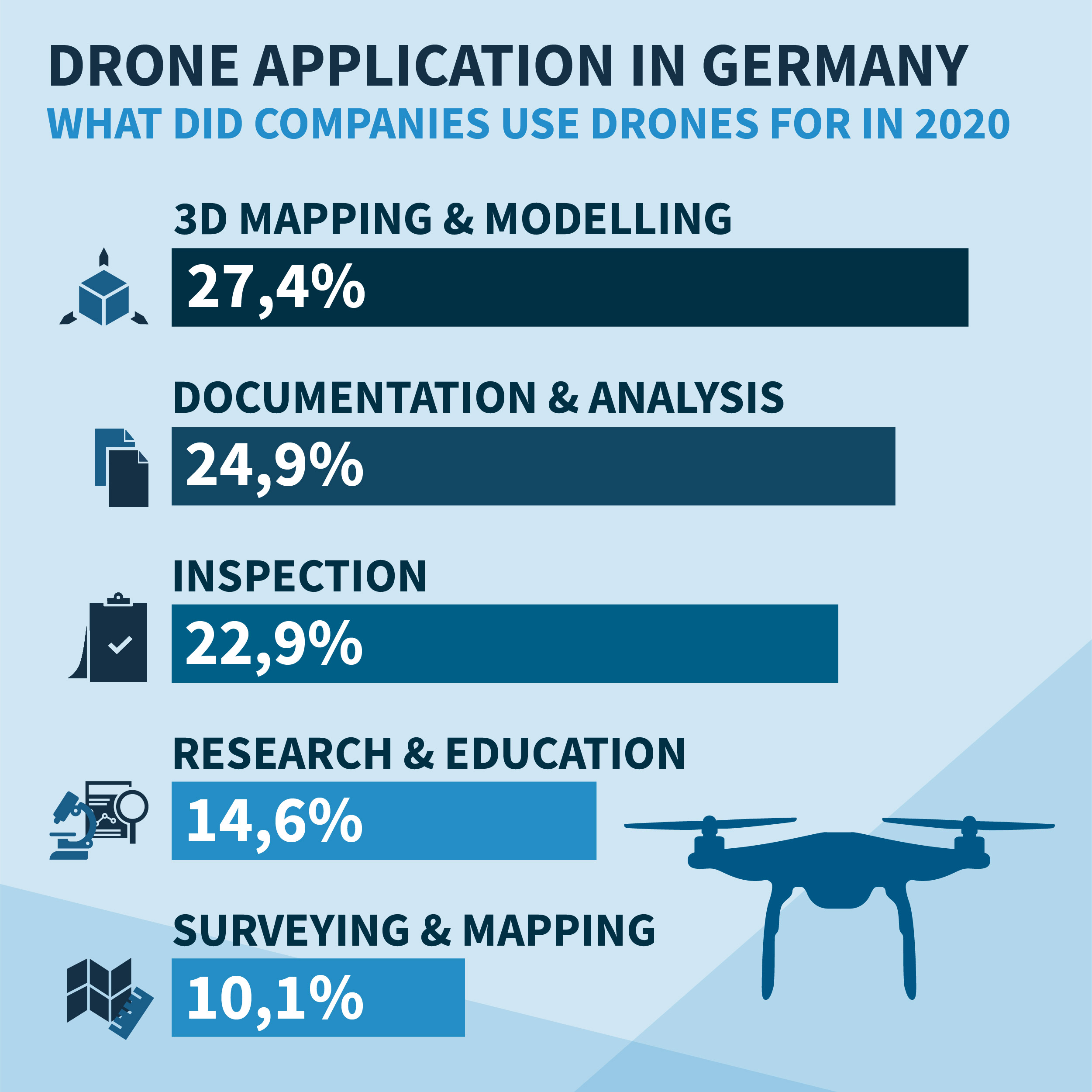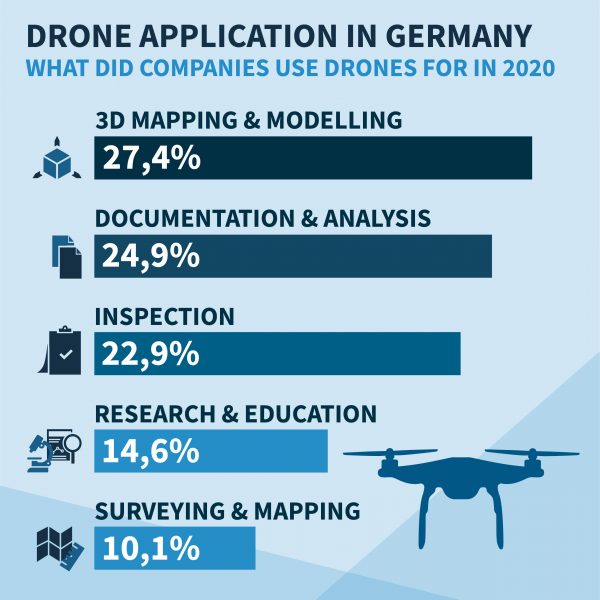 In 2021, we can therefore expect to see further strong growth in more complex and more precise use cases. In the construction and real estate sector particularly, more and more companies are integrating unmanned aerial vehicles into their work processes. Whether for construction site documentation, construction site planning, or damage detection. This gives them an early competitive advantage over their non-flying (ground-based) competitors.
An analysis by US-based Levitate Capital of the development of the drone industry over the next ten years also shows a clear picture. The global market volume will increase fivefold by 2030. One of the main drivers of these developments will be the increasing automation of data collection by drone. Here, integrated drone management, workflow solutions, and software tools for planning, aerial flight, and analysis in a central platform are the key success factors for implementation.
In particular, companies in the energy, oil, and gas industries will be looking to use drones for maintenance work or inspections in the future. We are curious to see whether the first projects will be realized in these industries this year.
Flying taxis over Germany?
Technology is steadily getting closer to the future. The first trial flights of air taxis have already been successful. At the end of 2021, the ITS World Congress in Hamburg will offer the public, politicians, as well as investors insights into the world of urban air mobility. Everything to do with drones, transportation, and urban mobility will be on display at the exhibition in October.
With the new impulses from the event, the new EU regulations, and the growing interest in drones, we hope for an exciting year 2021!
Your FlyNex Team