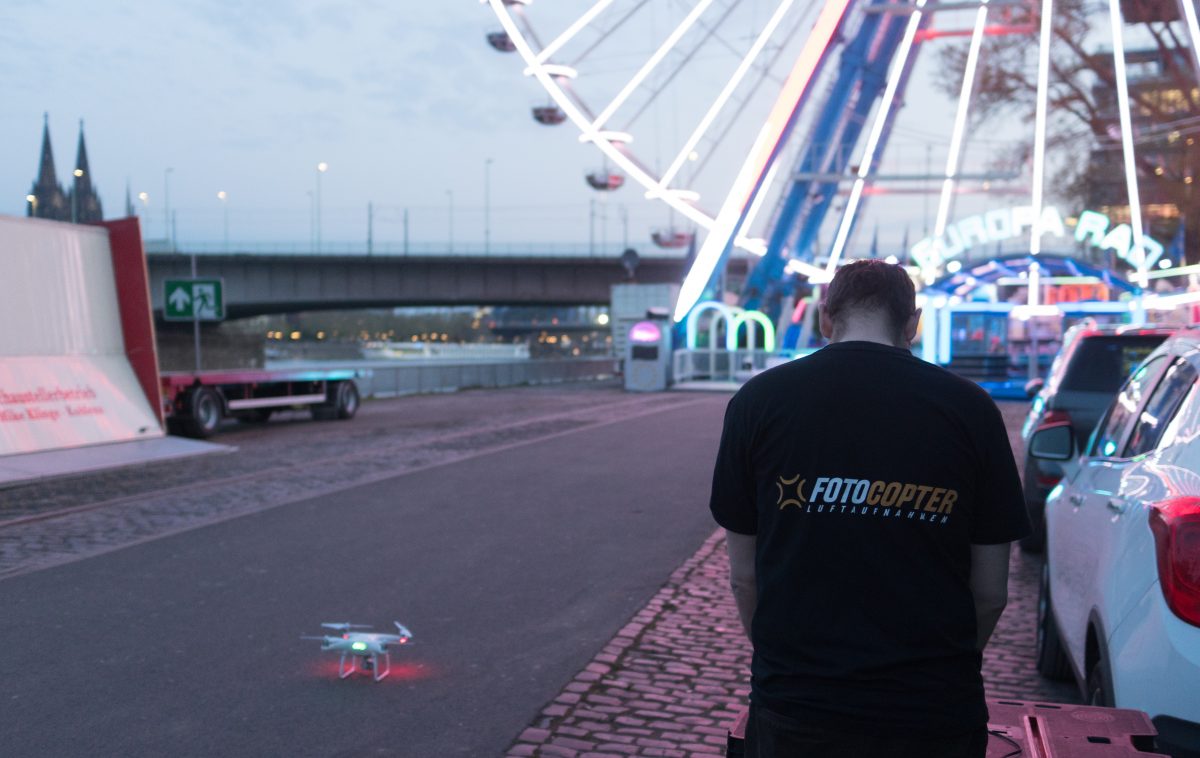 Autumn is naturally defined by a sudden change in the weather, storms, and frequent rain. Although the regular flying season is coming to an end, professional drone operators and pilots are still flying in autumn. This also applies to Marc Fischer of FotoCopter Aerial Photography from Cologne in North Rhine-Westphalia. It is once again time for roof inspections and damage detection before autumn storms for private and commercial properties. We have asked Marc Fischer a few questions about this:
1. Summer is over, and outside it is getting cold and wet. In fact, not ideal weather to let the drone fly. But inspection flights make sense right now; why?
Prevention is better than new covers. Rain and storm can do a lot of damage to the house. With the drone, I can easily, quickly, and safely check houses or larger objects. Whether roofing tiles and roofing stones have been lifted or torn loose by the storm and thus leaks occur, which can lead to expensive damage to insulation and masonry. Wind from 60 km/h can cause quite a lot of damage. And most susceptible – one should not believe it – is the side facing away from the wind.
2. What exactly are you inspecting for? What should you pay attention to?
I check whether the roof tiles/roofing tiles are still lying correctly and firmly in the rebates, or are mortar-coated, or whether the storm pegs are correctly positioned. Remaining autumn leaves and small branches can collect in the rain gutter and clog it. For flat roofs, I suggest checking if all drains are still free. This also applies to the garage. Solar panels are also checked for damage. I examine whether the lightning protection system lines are still firmly attached to the ridge and dormer. Furthermore, I also inspect the façade to see if a lot of water has run down the façade somewhere or if the wood paneling is soaking wet in one place.
3. Does the inspection necessarily require special equipment/cameras?
The UAV should come with a high-resolution camera to evaluate the images on the computer later. With special equipment, it is possible to transfer the drone's image to a large monitor so that the customer can look at it directly on site.
4. What do you recommend to homeowners and managers if they want to inspect by drone? Can anyone do it, or is it better to call a professional?
Flying experience is essential, as you have to look at some shots from close up so the drone maneuvers close to the house. The professional will also take care of all documents and any necessary permits so that everything is legally secure.
More about FotoCopter and Marc Fischer can be found on fotocopter.click. Thank you very much for the exchange.
Your FlyNex Team