The market for unmanned aerial vehicles is in a state of flux. In FlyNex's latest market study, a new picture emerges where the journey is headed for air cabs, transport drones, and industrial UAVs. The development of the commercial sector, in particular, deserves more attention than ever before. Since the advanced technology and economics of UAVs have improved significantly over the past 24 months, the industrial drone market is booming.
In Germany, a total of more than 430,000 drones are in use. Of these, 90 % are for private use alone. Even though the number of drones flown commercially is still small at around 45,000, these account for a full 88 % of the drone market at €738 million. Thus, Germany's commercial drone market is in fourth place in an international comparison after the USA, China, and Japan. In a European comparison, it is even the first place. (Source: BDL, as of March 2021)
It can therefore be seen that there is enormous potential in the commercial drone market. As a result, there are also more and more drone manufacturers building drones specifically for commercial use. Essentially, three major application springs of unmanned aerial vehicles can be defined:
a) Passenger: Individual transport with unmanned aerial cabs is probably the most prestigious application area. However, the passenger segment is also the field with the lowest degree of maturity. Currently, there is no provider in Europe with a fully unmanned operating license for inner-city air cabs. The devices from many providers are currently still in a testing and development stage.
b) Logistics: Industrial logistics solutions with unmanned aerial vehicles are also currently experiencing growing attention. Nevertheless, as a rule, operators are still in pilot projects and testing phases. The last mile business, mainly characterized by the players Amazon and UPS, is trying to develop scalable solutions here.
c) Industry: The area with the highest degree of maturity is just as diversified as it is technologically demanding. Agricultural, Construction, Medical, Energy – Many verticals are now using drones for transportation, inspection, documentation, and surveying use cases.
Drone manufacturers – Who are the market leaders?
The largest manufacturer of commercial drones worldwide is DJI. The Chinese market giant generates annual sales of over $2.8 billion (as of 2017). With various multicopters, DJI serves the drone market not only on a professional level, but DJI drones are also by far the most popular in the private sector. However, a look at other application areas reveals other companies that we will surely hear more about in the coming years.
In the following chart, we've picked up the biggest manufacturers and categorized them by device type and field of application.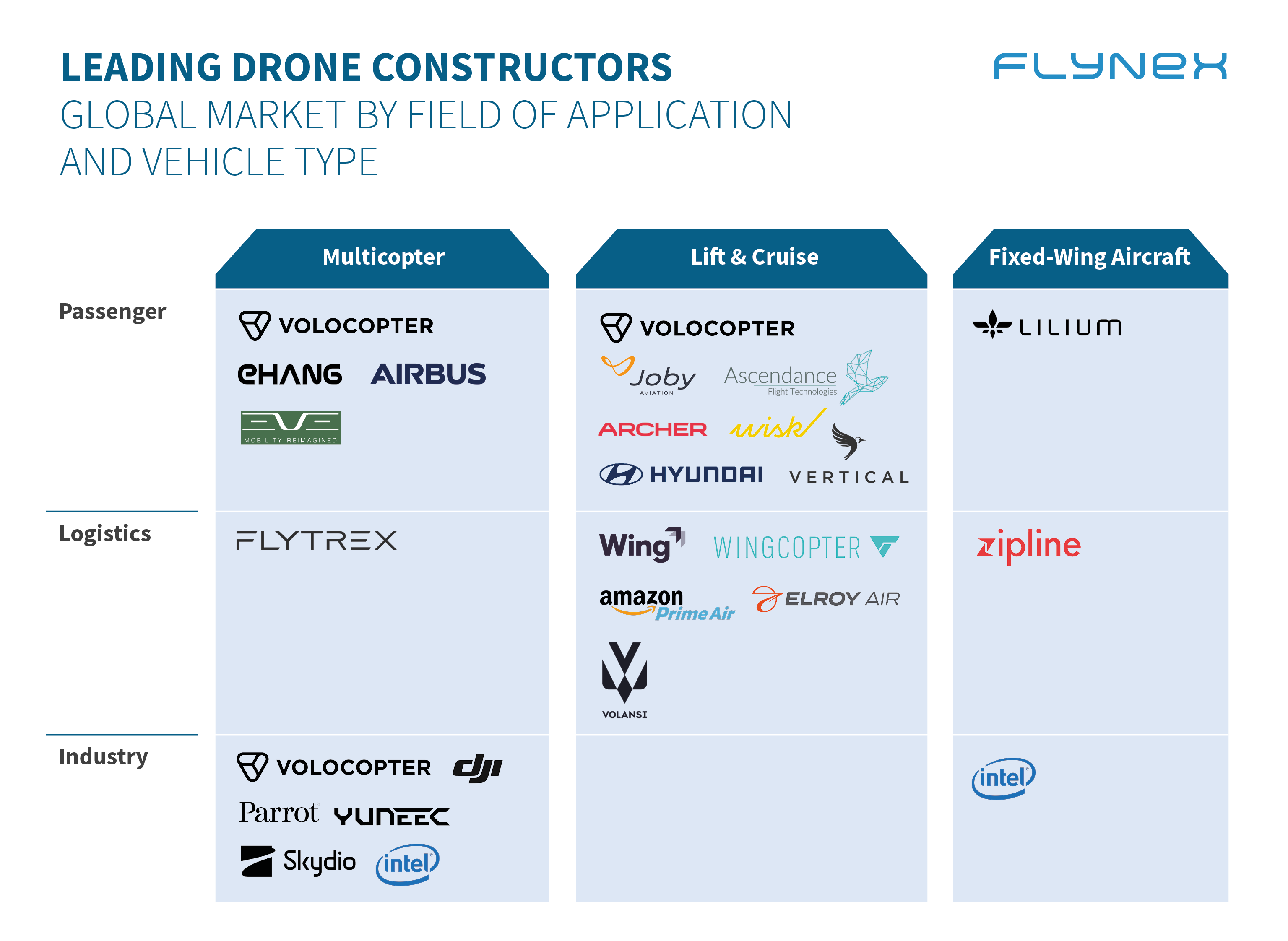 Vehicle Type
Multicopters are unmanned aerial vehicles that use rotors to enable vertical takeoff and landing. Depending on the number of rotors, they are further subdivided into quadrocopters (4 rotors), hexacopters (6 rotors), or octocopters (8 rotors). Models with a higher number of rotors are possible but not particularly common. This is because the more rotors there are, the more energy, i.e., batteries, are required. Multicopters of each type are also capable of hovering on the spot.

Example: Mavic 2 Enterprise
This category includes hybrids of multicopters and fixed-wing aircraft. They usually combine the advantages of both models. For example, they are capable of carrying heavier loads as well as hovering and ascending vertically. Therefore, like classic multicopters, they belong to the VTOL (Vertical Take Off and Landing) category.

Example: VoloConnect
Fixed-wing aircraft are similar to airplanes and, like them, require a runway for takeoff and landing. However, these models can reach higher speeds, are often more efficient due to gliding capabilities, and can take on heavier payloads.

Example: Zipline
Field of Application
A lot has been happening in the air cab and passenger drone sector in the last few years. From January 2020 to March 2021, half a million US dollars were invested in German air cab companies. The most relevant market players here are EHang (China), Joby Aviation (USA), and the two German companies Lilium and Volocopter.
However, experts from the German Air Transport Association do not expect profitable business models to be introduced before 2030. Passenger drones must be very reliable, and the particularly high safety requirements pose a major challenge for manufacturers and service providers.
Unmanned aerial vehicles are already more established in the transport and logistics sector. Whether for parcel delivery (Amazon Prime Air) or as part of projects such as Medifly Hamburg, several use cases for drones in logistics are coming together. Transport by UAV is particularly suitable in urban environments, i.e., in heavily congested city traffic or areas with poor infrastructure.
The Start-up Wingcopter, whose model can be used in various ways, is particularly successful here. For example, for infrastructure inspections or delivery of medical goods. Just earlier this year, they received an investment of 22 million euros. The Zipline company, in turn, focuses primarily on humanitarian fields of application, such as transporting medical goods to developing and emerging countries. Since April 2021, Zipline has also assisted in distributing Covid-19 vaccines to remote vaccination centers.
The areas of application in the industry for unmanned aerial vehicles are diverse. Drones make it easier to carry out inspections, whether of tall buildings or over wide areas such as open-air photovoltaic systems. They are less expensive because cranes and scaffolding are eliminated, and labor is minimized.
According to the BDL study, nearly 80% of drones in commercial use are used for surveying. This is closely followed by inspections (53%). Both application areas show particularly strong benefits, as quality and productivity can be massively improved, and costs can be significantly saved. Professional drone users mostly use their aircraft for more than one application. For example, real estate companies can perform routine roof inspections and have 3D models of their buildings created.
As already mentioned, DJI leads the market here, although the competition is numerous. Intel is also represented here with the Intel Falcon as a multicopter and Intel Sirius as a fixed-wing aircraft. The U.S. drone manufacturer Skydio should also be mentioned here as a relevant player in the industry sector, offering autonomously flying multicopters for inspections, monitoring, and other tasks.
How will the market develop in the future?
Although most drones are currently hobby devices, the declining market development (-14.5 %) shows that saturation will occur in a few years. Meanwhile, the absolute number of semi-professional and professional devices for commercial use cases is growing.
The commercial market will continue to grow rapidly. BDL expects the market to grow at an average rate of 16.1 %, which represents a market value increase of €1.5 billion by 2025. The number of drones in commercial use is expected to reach 132,000 by 2025. This is an increase of 200 % compared to today. This then means that every third drone will be in commercial use from 2025. The professionalization of the technology and thus the supply is a key factor for further market development.
We wish you further safe flights,
Your FlyNex Team