Why Companies Should Finally Embrace Modern Solutions
Many real estate companies and housing associations still encounter a common problem today: outdated inventory data on green and gray areas, incomplete records of property boundaries, and a lack of digital management systems for area management.
However, the rapid development of technologies allows us to use solutions today that were only dreamed of a decade ago. It's time to address issues like incomplete inventory data and make processes efficient, transparent, and forward-looking.
Discover in the following article how companies in real estate and facility management can benefit from drone technology and digital inventory data.
The Challenge
Over time, many districts have changed. Areas have been bought and sold or have found a different use over the years. Often, these changes were not always recorded correctly or digitally.
The result: inaccuracies and lack of transparency. For instance, when details on areas such as lawns, shrubs, or infiltration areas are needed, companies often rely on incomplete Excel lists or outdated paper documents. This is incredibly time-consuming and carries the risk of errors and inaccuracies – if the data exists at all. The last resort usually leads to costly surveying orders.
The following practical example shows the impact of missing and outdated data: A gardening and landscaping contractor was commissioned to manage a lawn area. Billing is done per square meter mowed. The client, a real estate company, relies on years-old data, resulting in an area of about 2,000 sqm. However, the actual lawn area to be managed is only 1,500 sqm. Assuming a price of 0.70 €/sqm, unnecessary costs of 350 € arise per mowing. With 10 operations per year, this already amounts to over 3,000 € in unnecessary expenses. Extrapolated to an entire district, such costs go into the high five-figure amounts.
The Solution: Digital District Surveying with Drones
The solution lies in the use of modern technology, such as georeferenced data collection with drones.
Drones offer an unparalleled opportunity to map large areas quickly and accurately. Combined with advanced software platforms like the FlyNex Platform, this data can be easily processed in 2D and 3D to depict all details from hedge heights to infiltration areas.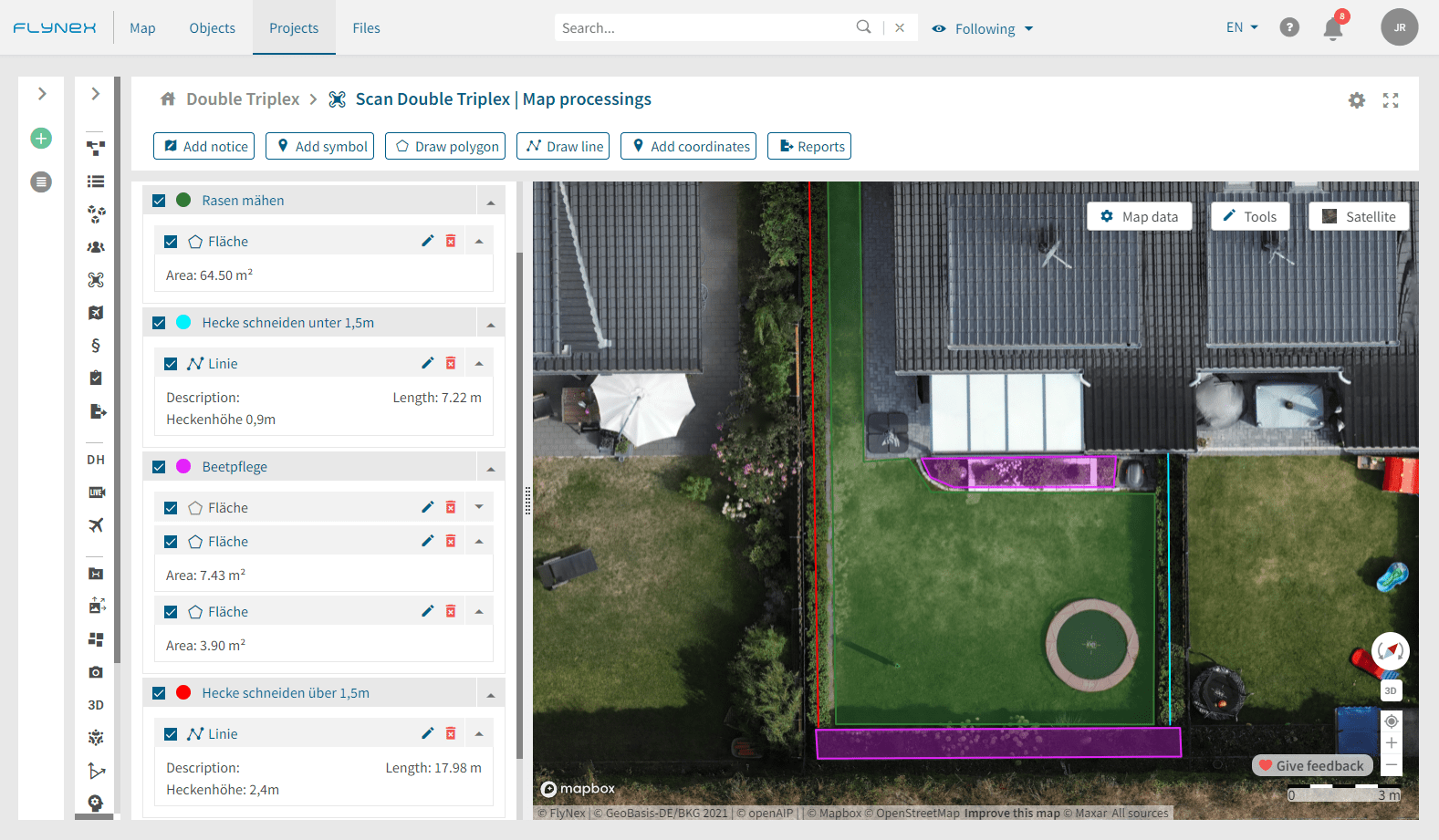 The Result: Digital Data Management
Optimized Area Management: With precise data from digital surveying, companies can plan and manage their green and grey areas more effectively, whether for gardening and landscaping, winter services, or sidewalk cleaning. Service providers can be used more targetedly, and their offers can be better checked. This leads to lower costs in everything.
High Information Capability: Access to digitalized information of the stocks allows companies to provide precise information to tenants, service providers, or city authorities at any time.
Strategic Planning: A clear overview of the stocks enables companies to make more informed and faster decisions regarding new constructions and conversions and to carry out planning digitally.
Better Sustainability Management: The accurate information on green areas makes it easier for companies to define and communicate their sustainability goals. They can make precise statements about how much green area they own and how these areas are used to support the environment.
Legal Security: Transparent and accurate data mean that clear and legally secure answers can be given in case of inquiries or challenges by tenants. This fosters trust and minimizes potential conflicts. In other cases, the data provides a solid legal basis, which is particularly useful in disputes or legal questions.
The benefits are almost endless. In summary, it can be said that companies can save high sums of unnecessary costs through surveying with drones and the digital management of the data, finally have a transparent information flow, and are quicker to provide information.
Conclusion and Outlook
Drone surveying not only revolutionizes inventory data management but also sets new standards. The potential of this technology for the real estate industry is enormous and offers companies the opportunity to work more efficiently, accurately, and sustainably.
For example, this technology also promotes sustainable district development. With accurate and current data, the full potential of each area can be exploited and the benefit maximized, be it for new buildings, renaturation or the expansion of existing structures. Projects such as playgrounds, plantings, or other green areas can be planned and implemented efficiently and environmentally friendly.
The digitalization of district surveying through drone technology is a game-changer for real estate and facility management companies. It offers a chance to say goodbye to outdated systems and inaccurate data. With digital district surveying, real estate companies can finally manage their stocks effectively, optimize costs, and act transparently.
Feel free to contact us if you are interested in our individual solutions and services.