The incident around Frankfurt Airport at the end of February is not an isolated case: Time and again, there are headlines such as "Drone brings flight operations to stop for several hours". Furthermore, the rules for drone pilots have become even stricter with the new EU drone regulation. But what do I really have to pay attention to as a drone pilot, and what penalties can I expect if I violate them? In our new blog series, we list the six "worst" violations and summarize at the end what every drone pilot should consider before taking off.
First, we will talk about:
Part 2 is more about the aircraft vehicle and what consequences flying without insurance and without identification can have. In Part 3, we will revisit the problems described above in connection with the incident at Frankfurt Airport and discuss flying in no-fly zones.
Fines partly drastic
Anyone who does not comply with the regulation can expect a fine of up to €50,000. However, it is not (yet) possible to say how high the fine will actually be for which violation. There are neither tables nor a catalog of fines. But this could be introduced with the German draft law to adapt to the EU drone regulation. So far, drone pilots can only orient themselves through the media on precedent cases from previous years. In the worst cases, criminal proceedings are initiated and imprisonment may be imposed. Likewise, points in Flensburg and the revocation of the driver's license can be the consequences.
If you are not yet familiar with the new EU Drone Regulation and do not know, for example, what the three operating categories are all about, we recommend that you read our White Paper on the EU Drone Regulation 2021 in advance.
Legal Fundamentals
Flying unmanned aerial vehicles in Germany are subject to the German Air Traffic Act (LuftVG) and the German Air Traffic Regulations (LuftVO). In the case of criminal offenses such as dangerous interference with air traffic or violations of privacy, the German Criminal Code (StGB) also comes into play. The LuftVG, for example, regulates the question of liability. The LuftVO, in turn, specifies where flying is prohibited, for example.
Which rules apply depends primarily on the (take-off) weight of the drone (UAV-class) and the intended use (private or commercial).

The amount of the fine additionally depends on the federal state.
Flying without Certificate
The certificate for flying a drone is one of the most important requirements to consider. If you fly your drone without the appropriate certificate, you could face a heavy fine of up to €50,000.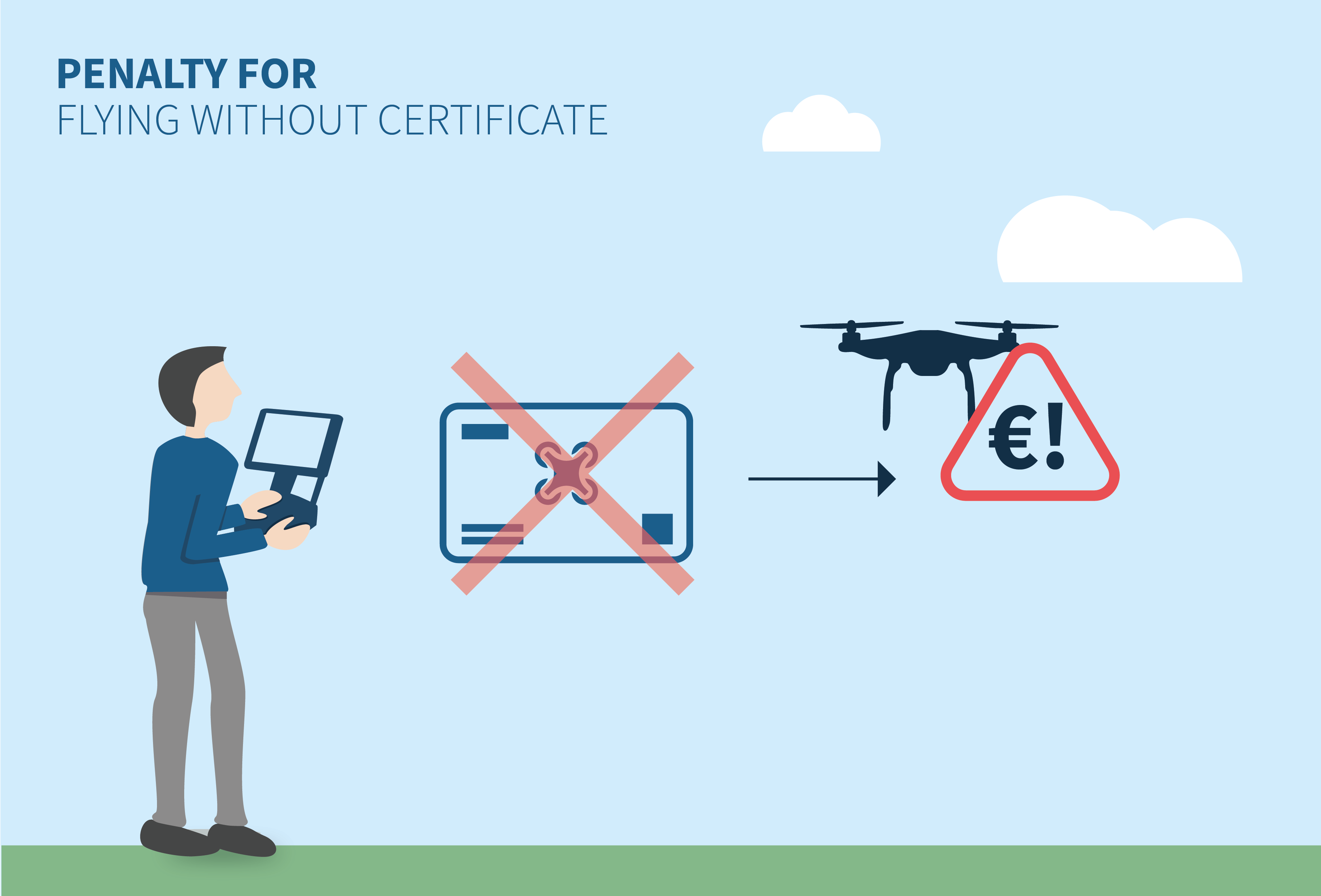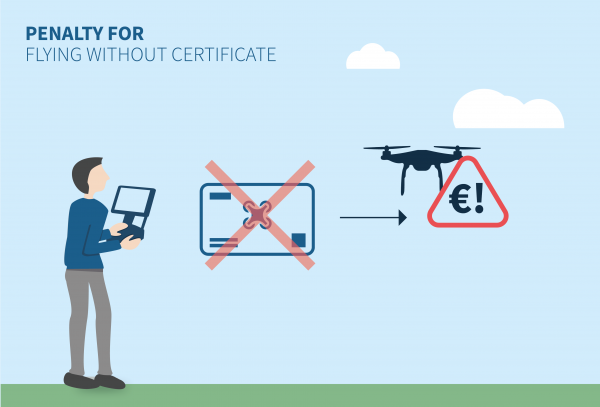 It is only allowed to fly without a pilot certificate if the drone weighs less than 250 g and thus falls into class C0. Otherwise, the following applies:
EU Certificate of Knowledge
("The small EU drone license")
Obligatory for
Category "open", A1 (C1) and A3 (C3, C4)
EU Certificate of Remote Pilot Competency
("The big EU drone license")
Obligatory for
You can currently still take the theoretical test (40 multiple-choice questions) for the EU certificate of knowledge free of charge at https://lba-openuav.de/pruefung/.
For the EU Certificate of Remote Pilot Competency, you need to absolve another theoretical exam as well as a practical self-test. More information about this here.
Flying without Permission
Drones in the "open" operating category can generally fly without a permit if the weight is less than 25 kg takeoff mass and there is direct visual contact throughout the flight.
However, for the "special" category, an operating license, operating declaration, or a Light Unmanned aircraft operator Certificate (LUC) is required. This category primarily includes commercial drone operations, meaning that a license or declaration is always required for commercial use.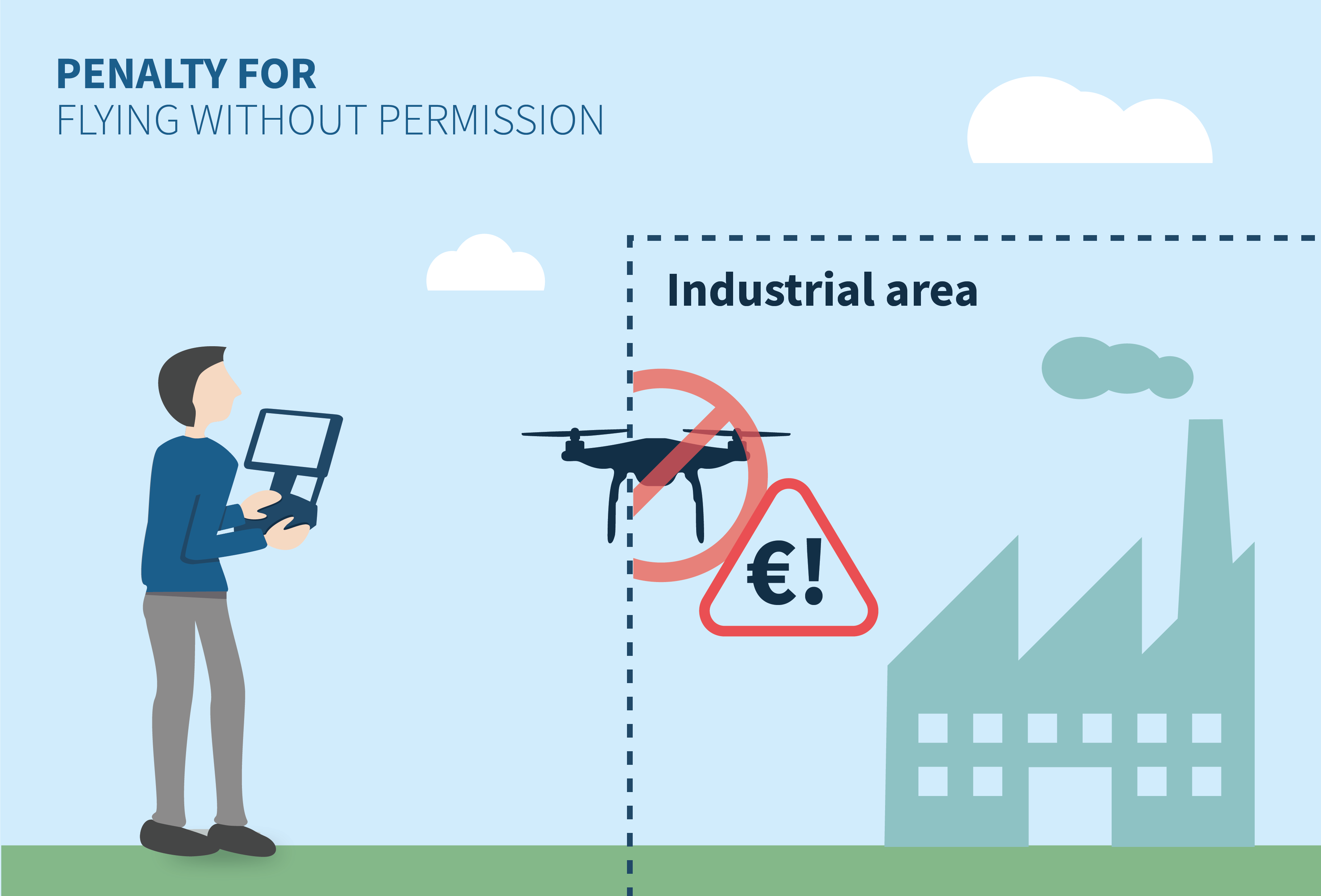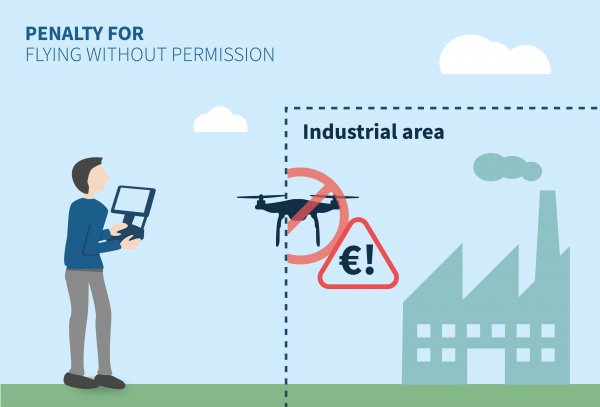 A declaration is less complex than an operating license. It is sufficient if the following criteria can be met:
The pilot flies with a UA with a maximum characteristic dimension (e.g., wingspan or rotor diameter) of
up to 3 m in VLOS above a controlled area on the ground, but not above crowds,
up to 1 m in VLOS, but not above crowds,
up to 1 m in BVLOS, over sparsely populated areas,
up to 3 m in BVLOS, above a controlled area on the ground,
below 120 m altitude and above controlled airspace (i.e., not airspace F or G).
Only a legal entity, e.g., an organization or a company, can apply for a LUC certificate. The certificate can be equated with a permanent operating permit.
Flying in the third operating category, "subject to approval," also requires a permit, as even stricter requirements for conducting a flight apply here.
The application's costs can vary depending on the federal state and can be inquired at the respective state aviation authority.
In any case, if you fly without a permit, you will face much higher costs in the form of fines of up to €50,000.
You can find more information about permits and the LUC certificate here on the website of the German Federal Aviation Authority.
Next week, part 2 of our blog series "Avoiding penalties – Important for drone pilots" will be published on the topic of flying without insurance and without an identification plate.
Until then, we wish you safe flights,
Your FlyNex Team