You can hear it whirling in the air. Rarely visible, but with increasing speed, the number of drones in German airspace is rising. Commercial use of drones is gaining in importance as a result. In terms of the entire UAV market, the number of devices for commercial UAV flights is still small compared to hobby UAVs. On the other hand, the main turnover in the UAV sector is almost entirely accounted for by companies and groups that use drones.
Strong Growth in Commercial UAV Flights
According to industry experts, the drone market is still in its early stages. More and more companies are discovering the possibilities of unmanned aerial vehicles for themselves.
"We see how, despite Corona, or perhaps because of it, many companies want to use drones. Especially in the construction and energy sectors. We also expect that the urban and metropolitan infrastructure sector will become much more involved with drones over the next two years."
This means that in 2020 the commercial UAV market in Germany has already recorded growth of over 21% compared to the same period last year. The number of commercial flights, such as the inspection of freeway bridges, now totals 55 %.
So although far fewer drones are used by companies than by hobby pilots – around 20,000 commercial drones compared to 500,000 private drones – the business sector now accounts for the majority of all flights.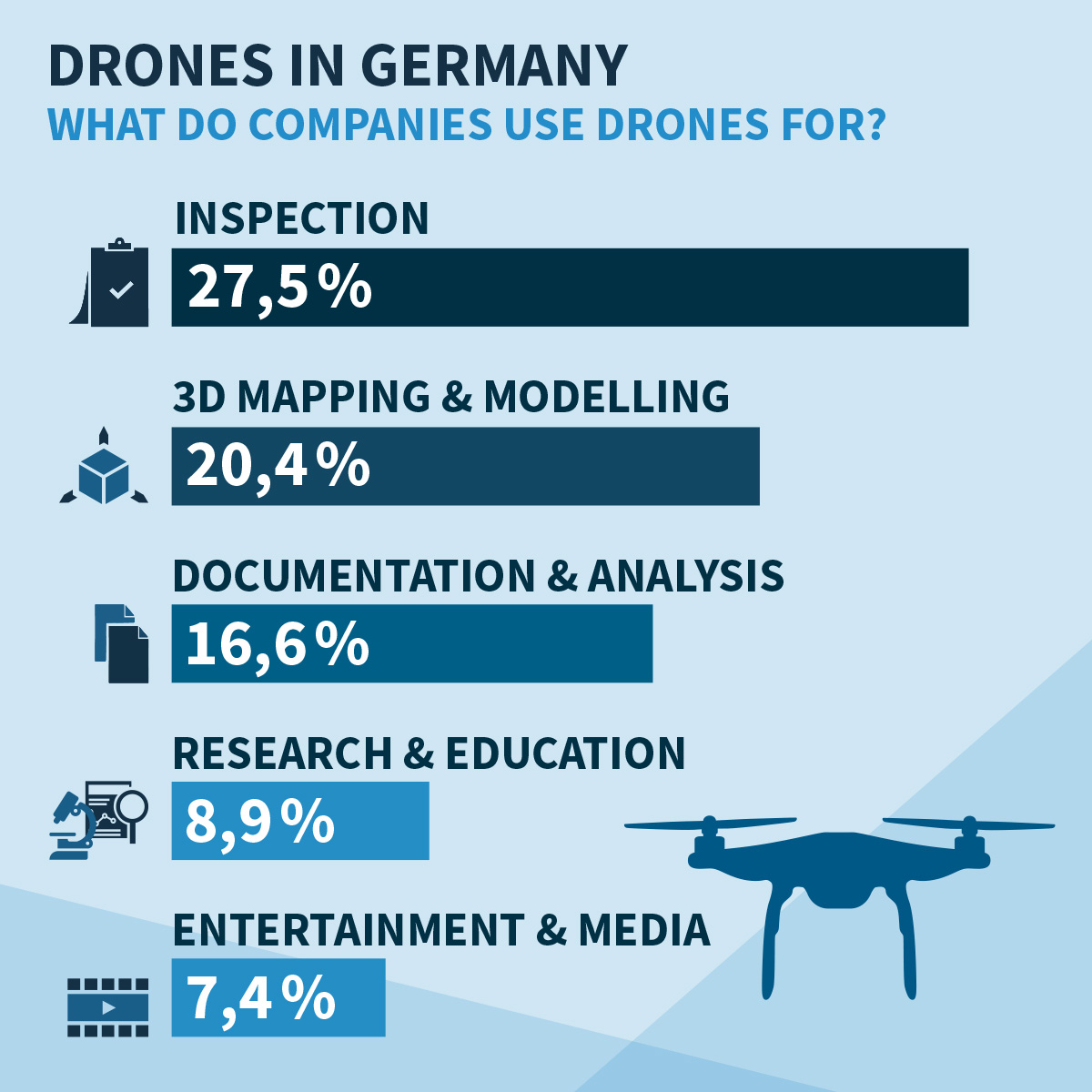 Weather and Corona Restriction Easing Uplifts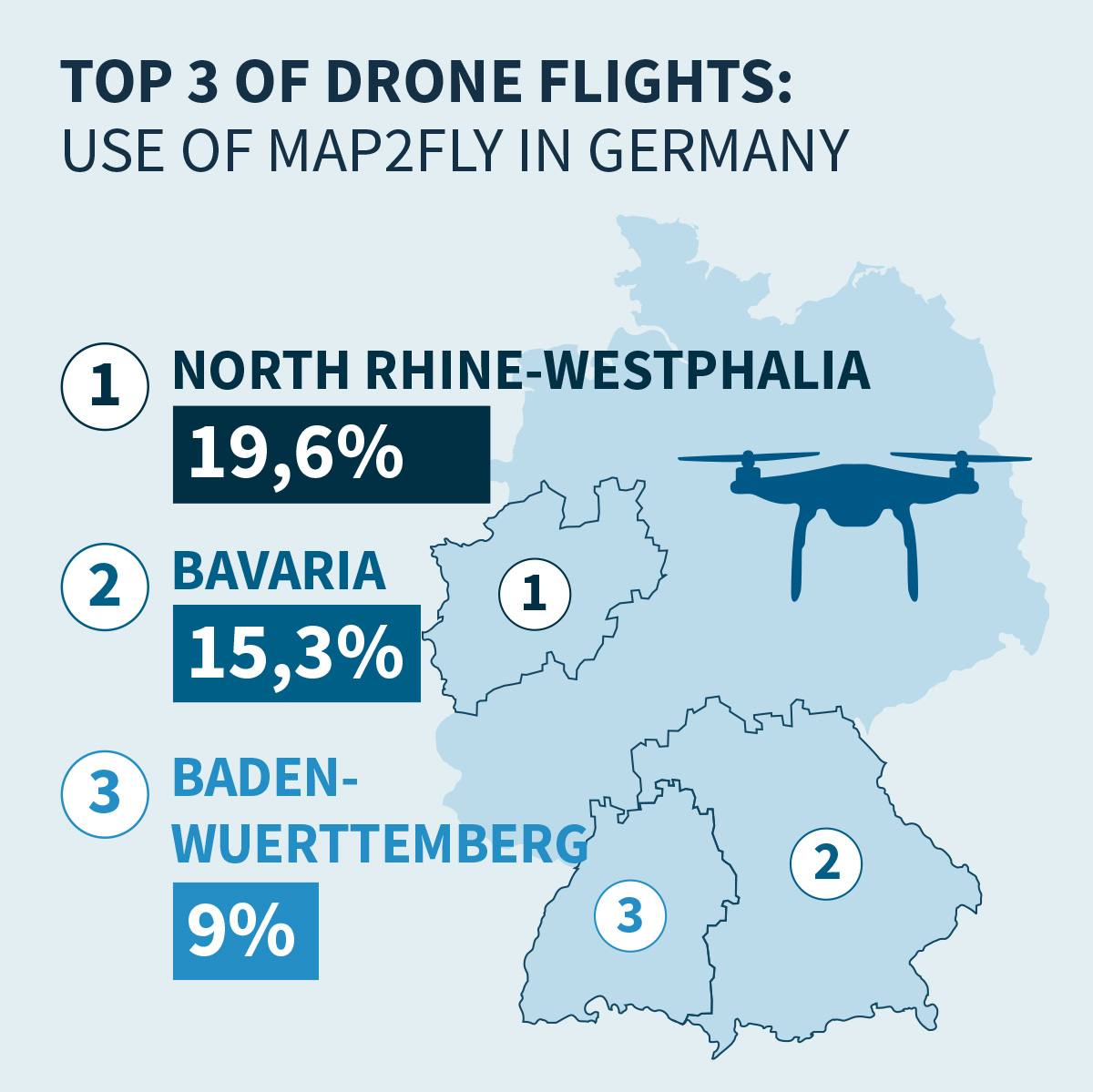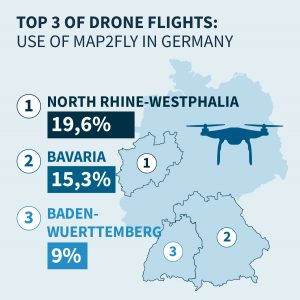 Good weather conditions as well as the reduced corona restrictions have led to an increased number of flights this summer. The trend from the past few years show: In rural areas, especially in southern Germany, drones were used more often.
Almost a quarter of all drone flights (24.4 %) are currently located in Bavaria and Baden-Württemberg. Among the federal states, North Rhine-Westphalia is top of the list with 19.6%.
Government Got the Ball Rolling
Not only the economy but also politics is setting a clear pace here. In May, Federal Transport Minister Andreas Scheuer and Thomas Jarzombek, the Federal Government's Aerospace Coordinator, presented the Federal Government's drone action plan.
The action plan is intended to promote research & development as well as further innovations and new economic fields with drones. The Federal Ministry of Transport and Digital Infrastructure alone is currently funding 35 different industry and science projects regarding unmanned flight.
"This is not just about flight taxis or parcel drones. To be honest, these are two applications that we are unlikely to see in the near future. UAV applications for survey, inspection, or documentation flights for construction & energy companies play a much more important role in the commercial sector. These are applications that are already taking place on a daily basis in companies today."
We are happy about the development and wish you successful flights,
Your FlyNex Team