Reliable power grids are an indispensable part of our everyday lives. At least since the beginning of the energy crisis, we have been reminded of the importance of the 1.9 million kilometers of overhead lines in Germany (source Statista) once again. But to guarantee our supply security without gaps even in times of crisis, countless kilometers of cables and thousands of overhead line masts must be checked daily. Therefore, network operators are increasingly using drones. But how exactly does network inspection by drone work? Fly over the towers with a drone – And then what? We clarify.
Obligation to Inspect
According to the Energy Industry Act, energy suppliers must ensure a "safe, reliable and efficient energy supply network." Network operators must check power poles and cables for damage and stability at regular intervals to provide this. In addition, special inspections are urgently needed in the event of a fault. All in all: The need for network inspections will not end in the future.
Why Inspection Should be Reinvented
Traditionally, inspections of pylons are conducted with binoculars from the ground or through the ascent of industrial climbers. Fitters, therefore, identify damage visually and, in the best case, document it manually in a checklist. Although overhead line fitters are always secured by a second person when climbing, they pose a high safety risk daily. Consequently, inspections carried out using traditional methods are risky, costly, and time-consuming. At the same time, the analog data collected only reflect the property's current condition and do not offer any basis for deriving predictive measures.
Also, helicopters are used to inspect towers and cables. Given the rising crude oil price and the ever louder call for sustainability, an alternative is needed shortly. It once again becomes clear: Network providers must reinvent inspections to continue to meet the increasing need in the future.
Saving Time by Deploying Drones
For this reason, many network operators are already using drones. The small aircraft are comparatively easy to handle and can easily collect image data even in hard-to-reach places at high altitudes. With a little practice and an A2 long-distance pilot's certificate, fitters can survey all areas of a mast to be inspected from the ground. This not only increases occupational safety but also saves around 50% in time.
Predictive Inspection Through Digital Data
Also, drones can be flexibly equipped with different sensors. In addition to optical images, infrared, thermal images, or ultrasound data can be generated by drone. With the help of these recordings, even minor damage can be detected reliably and at an early stage. As a result, damage can be repaired before failures occur.
In addition, through drones, damage previously recorded and documented in analog form is now available digitally. A solid database is created by collecting the same data at regular intervals, making it possible to observe the condition's development over time and derive targeted forecasts from it. Instead of planning reactive measures, predictive conclusions can now be drawn. In short: Inspections can be arranged before damage occurs.
Fly a Drone and Then?
Anyone who has already worked with drones knows how quickly collected data accumulates and how challenging handling this data volume can be. Project managers then ask themselves questions such as: "Where to put the data?", "How can I best use the data for my purposes?" and "How do I ensure that everyone involved in the project has access to the data that is relevant to them?". It quickly becomes apparent that implementing efficient, drone-based inspection processes requires more than just purchasing a drone and earning a long-distance pilot's certificate.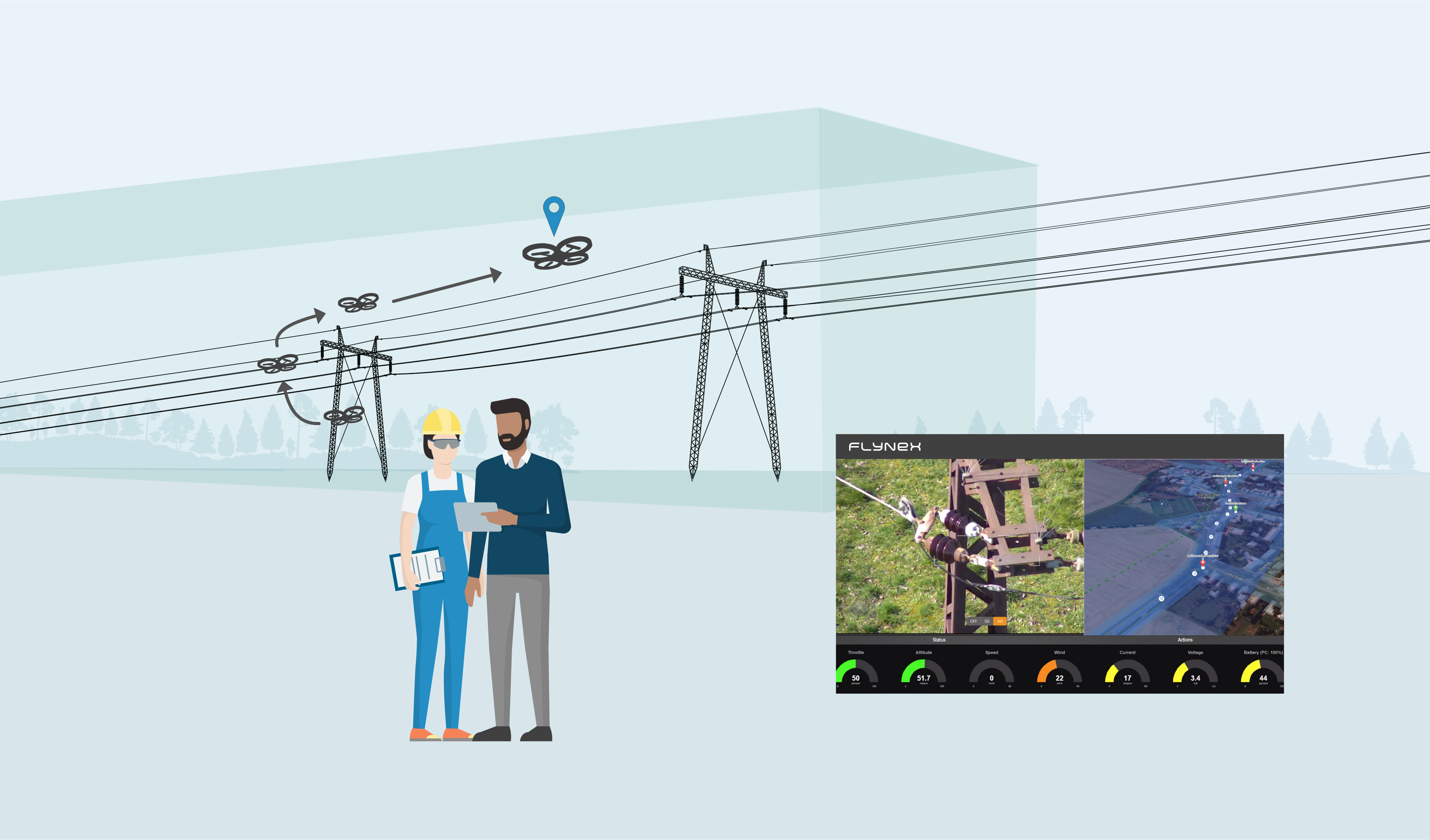 It All Comes Down to The Right Software
FlyNex has dealt with these questions and developed a software platform with which automated network inspections can be reliably implemented at scale. Before the drone takes off, the FlyNex platform offers assistance in applying for permits and planning flight routes and patterns. Thanks to the FlyNex Connect app for the drone controller, pilots can call up all the necessary information for the flight while in the field. Also, the Connect app enables the drone to fly a pre-programmed flight pattern automatically. Flight patterns and pre-programmed routes ensure the collection of high-quality data. After the flight, the image files are transferred to the FlyNex platform at the push of a button and made immediately available to authorized project participants.
What Happens to the Data?
The number of images taken during an aerial survey quickly amounts to more than a hundred to get a comprehensive picture of an overhead power line tower. Since the manual evaluation of this data takes a long time and is also prone to errors, artificial intelligence is used here. Once the artificial intelligence has been trained, it reliably and quickly detects damage, vegetation, and bird nests, for example, without engineers having to be on site. As a result, inspections can now take place remotely. In addition, measurements or volume calculations can be carried out with just a few mouse clicks using 2D or 3D models.
This is how today's automated inspection works!
Do you have further questions about network inspections, or are you interested in how to get the most out of your infrastructure data? Feel free to contact us. We look forward to the exchange.
We wish you good flights!
Your FlyNex team