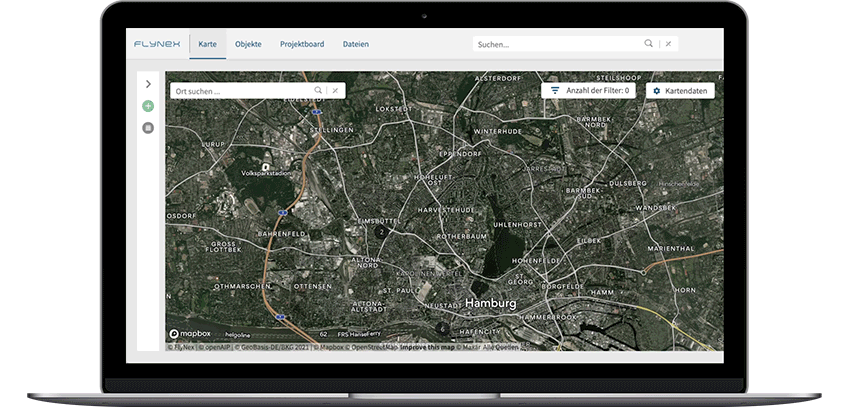 The Air As A Transport Space
From Unmanned Aerial Traffic Management (UTM) to Integration Solutions for Spatial and Traffic Planning
Geodata-as-a-Service
Reliable and accurate data are essential in traffic. Whether on the road or in the air. FlyNex provides highly precise and up-to-date data for the most diverse requirements over the entire German airspace.
Especially for unmanned aviation and BVLOS-flights (Beyond Visual Line of Sight) geodata and their legal conditions are essential. Create high-precision maps and products for unmanned aviation up to 500 ft and beyond.
Data for UTM-Service-Provider

Urban Air Mobility Navigation Solutions

More Than 165 Validated Data Sources

Automated Updates of Spatial Data

Control Center for Unmanned Aviation
Use Case MEDIFLY: Medi Drone for Transport Between Hospitals
For ambulances and urgent medical transports, heavy traffic is a serious problem. For this reason, ZAL (Zentrum für Angewandte Luftfahrtforschung GmbH), GLVI (Gesellschaft für Luftverkehrsinformatik mbH), Lufthansa Technik AG and FlyNex have joined forces and launched the Medifly-Hamburg project. Medifly involved a drone flying in Hamburg from the Bundeswehr hospital to the pathology department of Marienkrankenhaus. Since the project, funded by the Federal Ministry of Transport and Digital Infrastructure, was a success, it is intended to become the norm in the future.